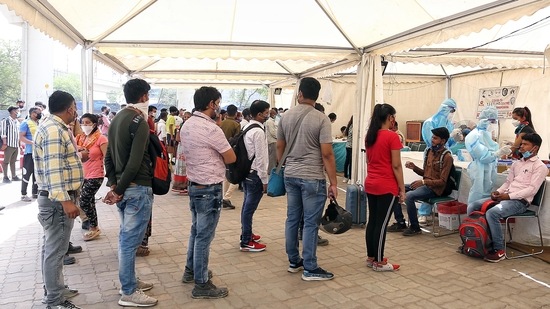 Delhi announces curfew from tonight till April 26
Delhi chief minister Kejriwal said Delhi's health system is at a tipping point and the Covid-19 situation in the national capital is critical.
UPDATED ON APR 19, 2021 02:44 PM IST
Delhi chief minister Arvind Kejriwal said a lockdown will be in place from Monday night till next Monday morning, in another attempt to arrest the rising cases of the coronavirus disease (Covid-19) in the Capital, the worst-hit city in India after Mumbai. The announcement came after chief minister Kejriwal and lieutenant governor Anil Baijal held a meeting with senior government officers over the Covid-19 situation in the national capital. Delhi is already under a weekend curfew as well as a 10pm-5am night curfew restrictions that are in place until April 30.
The Aam Aadmi Party (AAP) leader said in a televised address Delhi's health system is at a tipping point and the Covid-19 situation in the national capital is critical. "If we don't impose a lockdown now, we will be looking at a bigger disaster.. After reviewing the Covid-19 situation with lieutenant governor Anil Baijal it has been decided that it is important to impose a lockdown in Delhi, tonight from 10 pm to 5am next Monday (April 26)," Kejriwal said.
Also watch | Delhi to lock down for a week in wake of Covid crisis: Arvind Kejriwal
As he talked about the guidelines during the lockdown, from 10pm on Monday to 5am on April 26, the chief minister said essential services will be allowed to function and weddings can be held with a gathering of only 50 people, for which passes will be issued separately.
Also read | After lockdown announcement in Delhi, hundreds queue up outside alcohol shops
Kejriwal also urged migrant workers to not go back to their homes as he assured them that the government will take care of them. "With folded hands, I request you to not leave the city s this is a small lockdown of six days. These days will be wasted in your travel journey, stay here. The government will take care of you. I am here, trust me," the chief minister urged. "This decision has been taken when we were left out of option, I understand due to lockdown people face losses in business, especially for poor people this period is very difficult, it is extremely difficult for daily wage workers," he added.
The chief minister added he has been against lockdowns but said "it will not end coronavirus but it will stop its spread." Kejriwal assured that in this lockdown period the government will arrange more hospital beds to treat the patients. "I am thankful to Centre for the support our government is getting. We will arrange oxygen and medicines from them, will use this lockdown period for all this," he said urging people to follow the lockdown rules.
Delhi on Sunday recorded the biggest jump in its daily Covid-19 tally with 25,462 fresh cases as the positivity rate shot up to 29.74 per cent--almost every third sample being tested in the city is turning out to be positive for the coronavirus disease. Amid the spiralling cases, chief Minister Arvind Kejriwal on Sunday said Delhi is facing an "acute shortage" of oxygen and beds for Covid-19 patients and alleged that the quota of the city has been diverted to other states. The chief minister's remarks came hours after he wrote to Prime Minister Narendra Modi seeking his help with hospital beds and immediate oxygen supply.
"Del facing acute shortage of oxygen. In view of sharply increasing cases, Del needs much more than normal supply. Rather than increasing supply, our normal supply has been sharply reduced and Delhi's quota has been diverted to other states. OXYGEN HAS BECOME AN EMERGENCY IN DEL," he later tweeted. The Centre, however, dismissed Kejriwal's claims as "blatant lies" and and an official said there was no panic situation in Delhi regarding oxygen.
Also read | Can I walk my pet? Will I be allowed to attend a wedding?Delhi curfew FAQs answered
India's tally of Covid-19 cases crossed the 15-million mark with a record single-day rise of 273,810 infections and the active cases surpassed the 1.9 million mark, according to the Union ministry of health and family welfare.
Topics
Close