Dhanauri wetland: Notices to Centre, Uttar Pradesh over Ramsar tag
Jan 24, 2023 12:57 AM IST
Anand Arya, a birder, also said Dhanauri wetlands had completely dried in May 2021, a sarus crane and chick were found dead in December 2021, and encroachments and attempts to change the land use were reported in May 2021.
A birder has approached the Supreme Court and National Green Tribunal (NGT) over the "inordinate" delay in notifying Dhanauri wetlands in Greater Noida as a Ramsar site of international importance, and sent legal notices to the union environment ministry and the Uttar Pradesh government.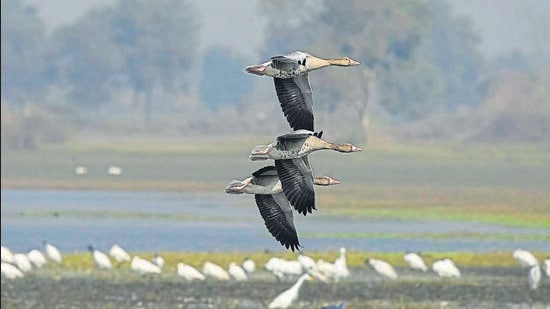 The Ramsar Convention on Wetlands is an intergovernmental treaty that provides the framework for the conservation and wise use of wetlands and their resources.
In an October 2017 order, the Supreme Court had directed that 201,503 wetlands (including Dhanauri) mapped by the union government should be protected under Rule 4 of the Wetlands (Conservation and Management) Rules, 2010. In a March 8, 2022 office memorandum, the Ministry of Environment, Forests and Climate Change (MoEFCC) reiterated the apex court's order and stated that this protection is irrespective of the applicability of/notification as per the Wetland Rules, 2017.
Also read: Delhi logs warmest January day in 4 years
Dhanauri wetlands support a fairly large population of the vulnerable sarus crane and a congregation of at least 20,000 waterfowl and other species. The sarus crane is threatened by the loss and degradation of wetlands, as a result of drainage and conversion to agriculture; ingestion of pesticides and hunting of adults and collection of eggs and chicks for trade, food, medicinal purposes and, in certain areas, to help prevent damage to crops, according to an analysis by Wildlife Institute of India. The Dhanauri wetlands themselves are threatened by encroachments and pressure from construction activities nearby, the analysis said.
Anand Arya, a birder who lives in Noida, sent the notices on January 21.
In the notice, he said, "Dhanauri is possibly the largest roosting site for sarus cranes in north India. Dhanauri receives water from three or four sources such as rainwater and runoff from fields that are irrigated. Encroachments and several constructions around the catchment can affect the wetland. It needs to be protected immediately. It is my considered opinion that not notifying Dhanauri and other wetlands is a serious dereliction of statutory duty leading to criminal breach of trust on part of the officials concerned. They must be punished for delaying legal protection of these wetlands."
In the notice, Arya said, "With threats becoming extremely serious and threatening the very existence of Dhanauri wetlands, please be advised that I am left with no alternative but to initiate suitable legal proceedings both at Hon'ble Supreme Court and Hon'ble National Green Tribunal for 1. Directions to save Dhanauri wetlands 2. Contempt of judicial directions and dereliction of duty, that is expected of public servants, and criminal breach of public trust for not protecting public property (wetlands and groundwater estimated to be nearly ₹6690.622 crore per annum)."
Arya also said Dhanauri wetlands had completely dried in May 2021, a sarus crane and chick were found dead in December 2021, and encroachments and attempts to change the land use were reported in May 2021.
To be sure, the union environment ministry has written to the Uttar Pradesh forest department and the Uttar Pradesh Wetland Authority several times since 2019 regarding the submission of a proposal for designating Dhanauri as a Ramsar site but the UP government has not submitted a proposal according to communications between UP government and MoEFCC seen by HT.
"The proposal regarding the designation of Dhanauri wetland as a Ramsar site has not been received from UP government. The proposal for designation of any wetland as Ramsar site is required to be submitted by state government concerned," said a senior MoEFCC official.
However, PK Srivastava, divisional forest officer, Gautam Budh Nagar, said the department has already submitted all documents and other details asking the UP Wetland Authority and MoEFCC to declare Dhanauri as a Ramsar site. "For the past four months, correspondence has been going on in this matter with the environment ministry. Queries are raised, and we respond to them and submit the proposal again.The process is going on," he said.
HT reported on January 21 that the Uttar Pradesh irrigation department drained out Haiderpur wetland, a protected Ramsar site, forcing tens of thousands of migratory birds to leave the most prominent bird site in western Uttar Pradesh. Officials admitted that this was done under pressure from farmers who complained of water logging in their fields due to a high groundwater level.
Experts, however, said that the Ramsar site tag alone may not help protect neglected wetlands, and that they need thorough legal protection through a notification under the Wetland Rules, 2017.
Also read: Two offloaded from SpiceJet flight for molesting crew member
Birders and conservationists campaigning for biodiversity-rich, neglected water bodies to be recognised as Ramsar sites have reported that wetlands across the country need urgent focus, said Ritwick Dutta, an environmental lawyer.
"The Wetland (Conservation and Management) Rules, 2017 mandate the departments concerned to prepare a list of wetlands to be identified for notification within six months from the date of publication of the rules (September 26, 2017). Data regarding the notification of new wetlands could not be found for any state except for Goa in the Indian wetlands portal. In 2021, six lakes in Goa were notified as wetlands. This shows that even though the number of Ramsar wetlands in India has increased, efforts to notify wetlands under the rules are lacking," Dutta said.