Man allegedly flashes private parts at woman passengers in Delhi's DTC bus
Jan 05, 2023 03:36 PM IST
The Delhi police said that an enquiry has been initiated into the matter after they came across a video clip that went viral on social media
A man allegedly flashed his private parts at a woman passenger in a Delhi Transport Corporation (DTC) bus in outer Delhi. The incident came to light after a video clip up went viral on social media.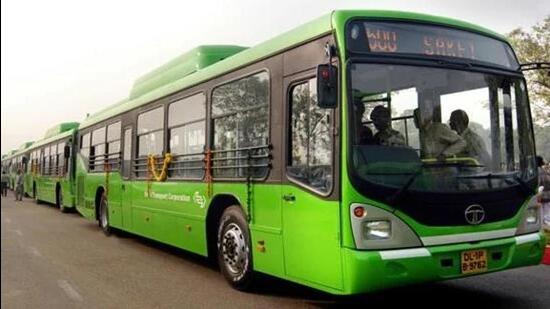 In the video, the woman, whose face is blurred, is heard alleging that the male passenger was flashing his private parts by looking at her. A man claiming to be a marshal deployed in a DTC bus is seen questioning the accused. The accused is seen crying and revealing his name, native place as well as his profession.
The Delhi police on Thursday said that an enquiry was initiated into the matter after they came across the video clip on January 3 and assigned a woman sub-inspector from North Rohini police station to look into it.
The woman officer contacted the woman passenger to record her statement and seek a complaint against the male passenger in connection with the incident.
"The woman, who is a resident of Mandoli in Delhi, refused to give her statement or comment on the alleged incident. In future, if any complaint is received with respect to the alleged incident, a legal action will be taken under the appropriate section of law," said deputy commissioner of police (Rohini) Guriqbal Singh Sidhu.
In the video clip, the woman passenger is seen identifying herself when the person who is making the video on his cellphone asked her name and about the incident that she witnessed. Thereafter, the person asks the accused about his name and whereabouts.
The accused, whose face is visible in the video and is seen crying, identifies himself as Zakir from Bihar and claims that he works as a footwear contractor in Vijay Vihar area in Delhi.
Further in the video, a DTC marshal in uniform identifies himself as Sandeep Chikara and can be heard saying that he caught the male passenger after the woman passenger informed him about his indecent act.
The marshal is also heard saying that the police have been informed about the matter and the male passenger will be handed over to the police.
HT could not independently verify the authenticity of the video clip or the allegations levelled against the male passenger in the video.
A senior police officer from Rohini district said that no information was given to the district police regarding the incident and no passenger was handed over to them. The police learnt about the matter on January 3 through the video clip circulating on social media, the officer said.