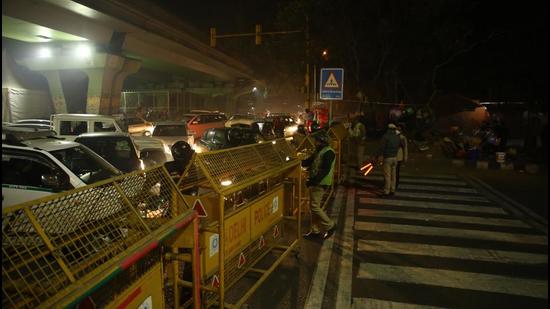 Starting today, night curfew in Delhi from 10pm to 5am amid rising Covid cases
The decision was taken as the Capital registered 3,548 new cases on Monday – a number that was slightly lower than Sunday, although this was due to fewer tests
UPDATED ON APR 06, 2021 03:05 PM IST
The Delhi government has imposed a night curfew that will be in place every day from 10pm to 5am in the wake of the rising Covid-19 cases in the national Capital, senior government officials confirmed to HT.
During the seven-hour curfew period, movement of only government officials, healthcare workers, those working for essential services or arriving at airports, railway stations or interstate bus terminals (ISBTs) and those travelling for Covid-19 vaccination or any medical treatment will be allowed.
"The situation of Covid-19 in NCT of Delhi has been reviewed and it has been observed that there has been a sudden increase in Covid-19 cases in recent past along with high positivity rate and therefore, it is felt that night curfew needs to be imposed in the territory of NCT of Delhi from 10pm to 5am, except for essential activities/services, as an emergency measure for well being and safety of people," read the order issued by acting chief secretary Satya Gopal on behalf of the Delhi disaster management authority (DDMA).
It will be in force till April 30 or until further orders.
The order, however, states that those working in private companies and engaged in essential services will have to get an e-pass for travelling within the city. The e-pass can be a hard or a soft copy which can be obtained by applying on the website www.delhi.gov.in, it stated. Besides, e-passes will also be required for those travelling for Covid-19 vaccination.
"The concerned district magistrates shall be responsible for issuance of e-passes for above activities and for overall implementation of these measures in their respective jurisdiction concerned," read the order.
Also Read | Amid rise in Covid-19 cases, Delhi govt orders increase in hospital beds
Public transport such as Delhi Metro/ public buses/ autos/ taxis shall be allowed to function within the stipulated time for the transportation of only above-mentioned categories of people. The order also clarified that there will be no restriction on interstate and intra-state movement, transportation of essential or non-essential goods. It stated that no separate permission / e-pass will be required for such movements. But, those arriving in the city from airports, railway stations, lSBTs will be allowed to travel on production of a valid ticket.
The curfew will mean that all restaurants, markets, wedding venues, pubs and other places where people gather will have to close up by 10pm every day.
The decision was taken as the Capital registered 3,548 new cases on Monday – a number that was slightly lower than Sunday, although this was due to fewer tests. Consequently, the test positivity rate inched above 5%, the threshold that the World Health Organization identifies as ideal for an outbreak to be considered as under control.
Night curfews are one of the most common non-pharmaceutical interventions (NPI) used in other states as well. These include districts in Punjab, Rajasthan and Gujarat. The strictest of the measures are in Maharashtra, where authorities imposed a night and weekend curfew, ordered non-essentials businesses to shut down, and asked most offices to switch to remote working.
Close