'Jain got massages in jail by a rape accused'
Nov 22, 2022 11:23 PM IST
On Saturday, a video circulated on social media in which Jain was seen getting a massage from an inmate in the former's cell inside Tihar jail.
A man who was seen in video clips giving Delhi minister Satyendar Jain massages in his Tihar jail cell is not a physiotherapist but an inmate accused of raping a minor, prison officials said on Tuesday, prompting another onslaught by the Bharatiya Janata Party, which called for the Aam Aadmi Party leader's sacking as a minister.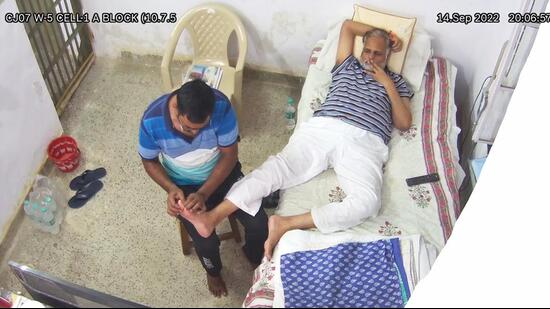 A video of Jain was widely shared on social media last week in which he was seen getting massages from a man inside his jail cell — the AAP leader is in judicial custody for the past five months over money-laundering charges — sparking allegations that he was being given special treatment in prison.
In response, the AAP said that Jain was being given physiotherapy on the recommendation of doctors.
"He (the person giving the massage) is lodged in Tihar jail for raping a minor in JP Kalan in 2021. A case under various sections including the Protection of Children from Sexual Offenses (Pocso) Act is registered against him by police. Rinku is not a physiotherapist," a Tihar official said on Tuesday, asking not to be named.
At a press conference on Tuesday, BJP spokesperson Gaurav Bhatia demanded that Jain be sacked.
"The person giving massage to Jain is accused under Pocso Act. Why is a person, accused of a heinous crime, giving Jain a massage? It was possible because Jain enjoys the protection of Arvind Kejriwal. It is not wrong to say that Kejriwal, who took oath to protect the people, is now protecting a person accused of raping a minor. The accused is giving massage [to Jain] and in return Kejriwal will give him protection," Bhatia said.
Bhatia asked Kejriwal to respond to the charges. "Kejriwal should respond whether he is standing with the justice-seeking parents of the minor or with the person accused of raping the minor. Why is Jain, who has been accused of money laundering and is giving protection to a rape accused, not being sacked?" he said.
Until his arrest earlier this year, former health and home minister Jain, was also in-charge of prisons.
The AAP's Delhi chief, Gopal Rai, dismissed the BJP's charges, saying that it was resorting to allegations because it is going to lose the upcoming municipal elections in Delhi.
"The BJP believes that by abusing Kejriwal, they will manage to get votes. The BJP wants to run away from answering people's questions. When people ask them what they have done to clean Delhi, they say 'look at what is happening in Tihar jail'. The BJP will have to be accountable to the people for their last 15 years' rule in the MCD," Rai said.
The Municipal Corporation of Delhi (MCD) elections will be held December on 4 and the votes will be counted on December 7.
The AAP leader added: "The issue is not about special treatment to Satyendar Jain. The BJP is rattled because people are going to give a treatment (defeat) to the BJP on December 4 when the MCD polls happen."
The minister, however, did not respond to the specific charge about the rape accused and the AAP's previous contention that the minister was undergoing physiotherapy.
A second prison official, who asked not to be named, said the rape accused is lodged in a cell next to Jain's. "That person has been transferred so that he is not forced to do anything for any inmate. He is not a physiotherapist as some reports claimed on social media," the official said.
After the video emerged on Saturday, deputy chief minister Manish Sisodia said Jain sustained an injury in the prison and the massage was a part of a therapy doctors had recommended.
"While in jail, he slipped and suffered a spinal injury, because of which he underwent two surgeries. While discharging him, the doctors recommended physiotherapy. This is not a luxury body massage, but pressure therapy being provided to an injured person," Sisodia said.
HT could not independently verify the authenticity of the video, which is a CCTV camera footage from inside the prison on three different days in September.
Jain's legal team on Saturday moved a special court seeking contempt action against the Enforcement Directorate, alleging that ED has leaked the CCTV video despite the undertaking given in the court. The agency, however, has denied the allegations.
Bhatia said the facilities provided to Jain violated the law. "If a prisoner gets the facilities of mineral water, TV and AC, how is it wrong to raise questions on it? If there is any medical issue, then medical facility will be given as per the jail manual, but every facility being given to Satyendar Jain violates the law," he said.
BJP spokesperson Praveen Shankar Kapoor on Tuesday wrote a letter to the Delhi Commission for Women chairperson Swati Maliwal, demanding that the DCW seek a report from Tihar Jail administration on the incident and sought appropriate action against Jain.
ED arrested Jain in May under prevention of money laundering act (PMLA). The central agency's probe is based on a 2017 case of the Central Bureau of Investigation (CBI), in which the AAP leader and his wife Poonam Jain were accused of amassing disproportionate assets worth ₹1.47 crore between February 2015 and May 2017, which was 217% more than their known sources of income. The agency has also alleged that Jain set up shell companies to launder money between 2011 and 2016.
Jain has denied the allegations, and the AAP has described CBI and ED action as "political vendetta".
"Exciting news! Hindustan Times is now on WhatsApp Channels
Subscribe today by clicking the link and stay updated with the latest news!"
Click here!