GMDA directs officials to lower green belts, enhance use of recycled water
Published on Nov 22, 2022 10:41 PM IST
Other key projects such as the railway over-bridge (ROB) in Palam Vihar, a pipeline for transporting treated water outside the city, were also discussed at the meeting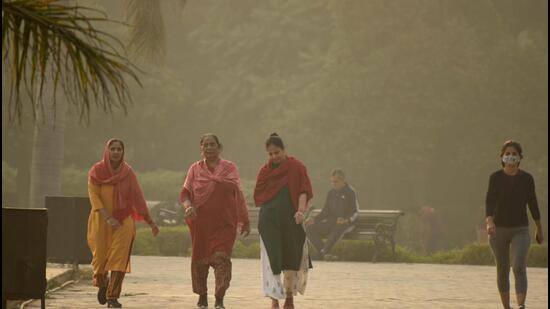 In an ongoing effort to prevent waterlogging during monsoon, the Gurugram Metropolitan Development Authority (GMDA) on Tuesday directed officials to expedite work on deepening green belts at Iffco Chowk and digging trenches along the southern peripheral road, and also ensure that ponds excavated for holding water are not filled up.
The directions were issued during the 51st core planning committee meeting of GMDA chaired by Sudhir Rajpal, GMDA CEO. Other key projects such as the railway over-bridge (ROB) in Palam Vihar, a pipeline for transporting treated water outside the city, were also discussed at the meeting.
Rajpal asked officials to ensure that work on rainwater harvesting should be carried out throughout the year so that waterlogging is prevented. He told officials to lower the green belt along major roads wherever possible to channelise the flow of rainwater during monsoon, which will help recharge groundwater. "There is a need to deepen the green belts at Iffco Chowk and along the southern peripheral road, particularly from Vatika Chowk towards Ghata. Rainwater has to be retained inside the city," he said.
Officials were also directed to ensure that ponds dug at Rajiv Chowk and Leisure Valley Park, which were refilled by different agencies, are dug again. "These ponds must be dug again and green belts also be lowered. There is also a need to look at natural creeks in the Aravallis and restoration of water bodies for rainwater retention and harvesting," he told officials.
Another key agenda discussed at the meeting was to reuse treated wastewater being recycled at the sewage treatments plants in the city. Rajpal asked officials to ensure that the policy to reuse 80% of treated wastewater must be implemented and this should be used for hortiuclture, irrigation and construction.
Engineering officials said they have issued tenders for laying pipelines from Botanical Garden, Sector 52A to Biodiversity Park on MG Road to enhance the use of recycled water, They have also laid a recycled water pipeline from MDI Chowk to Sanath Road and Tau Devi Lal Park in Sector 23A.
Officials said there is a proposal to transport 200 MLD (millions of litres per day) treated water by laying a 35km pipeline from Behrampur to Nuh distributory irrigation channel at Korali village in Tauru. This water will be used for agricultural purposes.
"Currently, 278 MLD water is being treated up to a tertiary level by GMDA and in future, this will be further increased to 388 MLD. The feasibility to channelise the surplus treated wastewater from Gurugram to Mewat will be examined and accordingly, the proposal will be discussed in the next meeting," he said.
Personalise your news feed. Follow trending topics