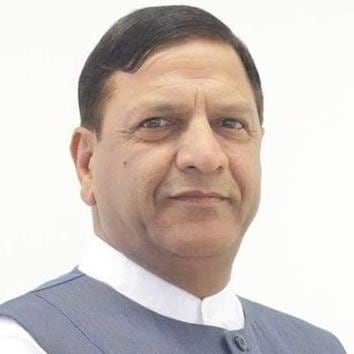 Himachal BJP chief Rajeev Bindal quits week after scam in health dept
Says quit on moral grounds as BJP's name was being dragged into the controversy
UPDATED ON MAY 27, 2020 06:32 PM IST
Shimla: Exactly a week after a medical equipment purchase scam surfaced in Himachal Pradesh and led to the arrest of then health director Dr AK Gupta, state Bharatiya Janata Party chief Rajeev Bindal resigned, citing moral grounds after the BJP's name was dragged into the controversy.
In his resignation letter to BJP national president JP Nadda, who had handpicked him for the post only in January, Bindal, 55, said: "I'm the president of the state party and we all want a free and fair probe into the alleged corruption without any pressure. In view of my high moral values, I am resigning from the post."
On May 20, the state vigilance and anti-corruption bureau arrested Dr Gupta for demanding a bribe of Rs 5 lakh after an audiotape of his telephonic conversation with a Renuka-based medical equipment supplier surfaced. The vigilance has sealed bank accounts of Gupta and his relatives and recovered documents of purchases made by the health department from his house.
'PARTY IS CLEAN'
With the opposition Congress demanding a probe by the Central Bureau of Investigation, Bindal said, "The state government acted swiftly and arrested the officer. The probe was promptly handed over to the vigilance and anti-corruption bureau. The BJP has nothing to do with this episode. The party is clean."
The five-time legislator and former health minister said that "pointing a finger at the BJP for this incident was not only injustice but an insult to the services the state government has provided during the coronavirus pandemic".
WAS UNANIMOUS CHOICE FOR CHIEF
Bindal was formally declared state BJP chief on January 18 this year at a function attended by chief minister Jai Ram Thakur.
His name was announced by national BJP secretary Sunil V Deodhar in the presence of Union ministers Ramesh Pokhriyal and Anurag Thakur besides outgoing state BJP president Satpal Singh Satti, who had been at the helm for eight years.
Nadda had nominated Bindal for the post, considering his organisational skills.
Close