Kashmir avalanche: Bodies of 4 missing soldiers recovered, death toll reaches 14
Hindustan Times, Srinagar |
Ashiq Hussain
Jan 28, 2017 01:24 AM IST
Army spokesperson said the search operation has been stopped.
Bodies of the four soldiers who went missing after avalanches struck an army camp and patrol in Gurez area of Jammu and Kashmir's Bandipora district have been recovered, taking the death toll to 14.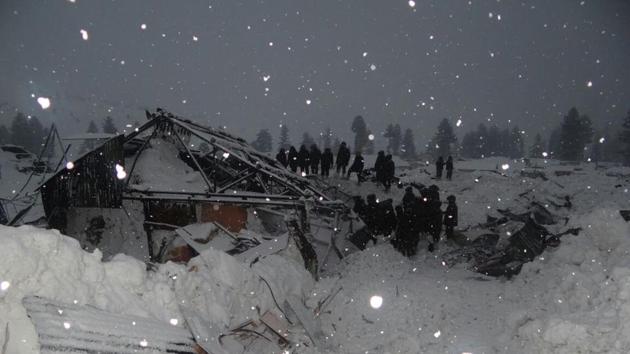 Army spokesman Rajesh Kalia said the search operation had been stopped. "We recovered four more bodies which were part of the army patrol. Every soldier has been accounted for," he said.
A series of avalanches struck army installations and residential houses in Bandipora on Wednesday after Kashmir valley received record snowfall in a decade in the month of January.
The avalanches swept away an army camp of 51 Rashtriya Rifles taking the lives of three soldiers. A JCO (junior commissioned officer) and six soldiers were rescued from the camp.
Another avalanche struck an army patrol in the same region from which seven bodies were recovered on Thursday.
Four members of a family were killed in the district after their house collapsed due to heavy snowfall. Police said that their house had come under an avalanche.
In a separate avalanche in Ganderbal district, an army major also lost his life on Wednesday.
Kashmir has been witnessing one of the severest winters since 2006 and 1992, with heavy snow across the territory and temperature dropping to minus 7 degrees Celsius. But conditions are expected to improve from January 27, said director meteorological centre, Sonam Lotus.
Besides militancy, weather has been a major adversary of armed forces in Kashmir. Avalanches caused a third of the army fatalities between 2007 and 2012 in the Valley.
On February 3 last year, 10 soldiers were killed after an avalanche hit Siachen Glacier, the world's highest and coldest battlefield.
The latest disaster zone is close to the Line of Control (LoC), the de facto border with Pakistan.
Police said heavy snow damaged 13 houses, three shops and a shrine in Budgam and Ganderbal districts.
About 150 people were evacuated on Wednesday from avalanche-prone Khadiyall and Ismarg villages of Gurez.
Since the start of heavy snowfall on Tuesday, at least seven civilians have died in the Valley including four members of family in Bandipora.
Authorities have issued avalanche warnings, advising residents in mountainous areas not to venture out.