Kashmir: Mehbooba Mufti, daughter allegedly put under house arrest
Updated on Nov 27, 2020 04:38 PM IST
The Peoples Democratic Party chief alleged she was not allowed to meet the family of detained party leader Waheed Parra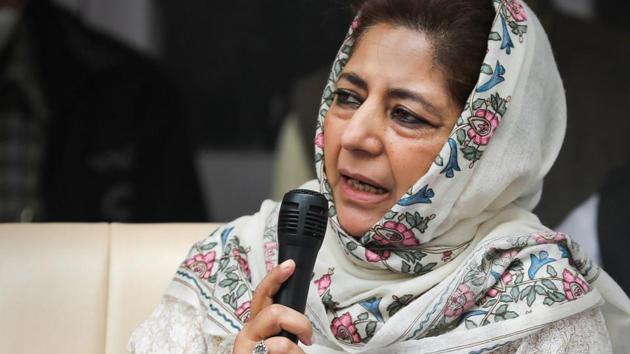 Hindustan Times, Srinagar |
Mir Ehsan
Former Jammu and Kashmir chief minister and Peoples Democratic Party (PDP) chief Mehbooba Mufti was detained by Jammu and Kashmir Police and was not allowed to visit South Kashmir's Pulwama to meet the family of senior PDP leader Waheed Parra, who was arrested by the national investigating agency (NIA) earlier this week.
"Ive been illegally detained yet again. Since two days, J&K admin has refused to allow me to visit @parawahid 's family in Pulwama. BJP Ministers & their puppets are allowed to move around in every corner of Kashmir but security is a problem only in my case," Mufti tweeted on Friday morning.
Mufti said that her daughter Iltija Mufti has also been placed under house arrest. "Their cruelty knows no bounds. Waheed was arrested on baseless charges & I am not allowed to even console his family. Even my daughter Iltija has been placed under house arrest because she also wanted to visit Waheed's family," she said, adding that she will address a press conference on Friday.
However, in the afternoon when media persons arrived at her home, police didn't allow them to go inside the Fairview Guest House -- the official accommodation of the PDP president.
"Press has been barred from entering my residence in Srinagar. This, despite no written orders explaining my arbitrary detention. Kashmir is an open air prison where no one has the right to express their opinion," tweeted Mehbooba Mufti.
She added that that administration was using fear and intimidation. "We are one day away from DDC polling & its evident that the admin here is using fear & intimidation in tandem to muffle any form of opposition," she tweeted.
Meanwhile, PDP youth president Waheed ur Rehman Parra was presented before the NIA court in Jammu and was sent to 15-day police custody by the court. Parra was arrested by the NIA in New Delhi on Wednesday. PDP has launched a campaign on social media terming all allegation against Parra false. Parra is also contesting DDC polls from Pulwama.
Personalise your news feed. Follow trending topics