Mahant's 2 disciples in judicial custody; temple priest's son also arrested
Updated on Sep 23, 2021 12:52 AM IST
Post-mortem report of Akhada Parishad president Mahant Narendra Giri indicated that the death occurred due to asphyxiation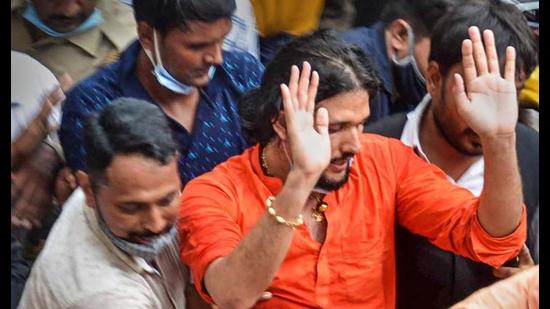 PRAYAGRAJ Anand Giri and Aadya Tiwari, disciples of late Mahant Narendra Giri, accused of harassment by the seer in his purported suicide note, were sent to14 days' judicial custody on Wednesday while the police arrested Sandeep Tiwari, son of Hanuman temple priest, Aadya Tiwari, whose name also figured in the letter.
Anand Giri was arrested on charges of abetment of suicide on Tuesday evening while Aadya Tiwari, priest of Bade Hanuman Temple, was also held later in the day.
After being questioned for long hours, Anand Giri and Aadya Tiwari were taken to Beli hospital for medical examination and then taken to the district court amid heavy security. They were produced before the court of chief judicial magistrate Harendra Kumar who sent them to 14-day judicial custody, said a senior police officer.
Sandeep Tiwari could also be produced in court on Thursday after interrogation, a senior police official said.
The police had a tough time controlling the crowd of lawyers at the district court and escorting Anand Giri and Aadya Tiwari out from the court premises.
A case of abetment of suicide was lodged against Anand Giri at George Town police station on the complaint of sewadar Amar Giri. The FIR did not include Tiwari's name, but his name was also added to the FIR later on the basis of the purported suicide note in which he was also accused of harassing Mahant Narendra Giri, said police.
Death due to asphyxiation: PM report
The post-mortem report of Akhil Bharatiya Akhada Parishad president Mahant Narendra Giri, who was found hanging from a ceiling fan in Prayagraj earlier this week, indicated that the death occurred due to asphyxiation, people familiar with the matter said. The entire procedure, which was conducted for over two hours, was videographed and the report handed over to authorities in a sealed envelope.
Personalise your news feed. Follow trending topics