Meerut's sports univ to be named after Major Dhyan Chand, says UP CM
CM announces hike in UP sportspersons' diet money, govt decides to open int'l standard wrestling academy in Lucknow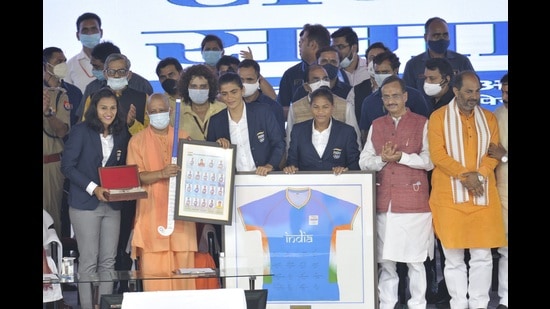 Updated on Aug 19, 2021 11:00 PM IST
LUCKNOW Days after Prime Minister Narendra Modi announced that the Rajiv Gandhi Khel Ratna Award will now be known as Major Dhyan Chand Award, UP chief minister Yogi Adityanath on Thursday named the sports university of Meerut after hockey legend Major Dhyan Chand.
The CM made this announcement while distributing ₹42.03 crore cash awards to all Tokyo-returned medal winners of India and others at a felicitation ceremony at the Atal Bihari Vajpayee Ekana Stadium here on Thursday. It was another honour for Dhyan Chand, who was regarded as one of the greatest in the history of hockey, after winning three gold medals for India at the Olympics.
"To give sports a fillip, the state government has decided to name UP's proposed sports university at Meerut after Major Dhyan Chand, whose contribution to Indian sports is immense," said the CM.
The government had also decided to adopt two sporting disciplines, including wrestling for the next 10 years. The government would take care of everything in these two disciplines and its athletes, he said.
Laying emphasis on Prime Minister Modi's vision of 'Khelo India Khelo', the CM said as per the request of the Wrestling Federation of India, the state government had decided to open an international standard academy of wrestling in the state capital.
Yogi, who met each medalist during the ceremony, also announced a hike in UP sportspersons' diet money from ₹250 to ₹375 per day, bringing it at par with the diet money plan of the Sports Authority of India. He also announced a hike in the cash awards to medal winning athletes of Uttar Pradesh in future international events like the Commonwealth Games, Asian Games and World Championships.
"We also have plans to appoint medal-winning athletes at the top level (Olympics, Commonwealth Games and Asian Games) on gazzetted posts, including that of deputy SPs, in various government departments," the CM added.
However, he did not make any direct promise of any specific jobs to any of UP awardees on the dais, but said that the government had decided to create new job opportunities in the UP Sports Directorate against the vacant posts of regional sports officers, sports officers and deputy sports officers.
The CM also mentioned about schemes like creating a playground in every village and open gym at every gram panchayat level. "It's a Kumbh of sports and sportspersons here today and we all should celebrate this occasion. The UP government will continue its support to sports and sportspersons," he added.
Governor Anandiben Patel too lauded the congregation of medal-winning sportspersons at the ceremony. "Success of our athletes at the Tokyo Olympics will surely motivate parents in the country to push their wards to follow the footsteps of Neeraj Chopra, who is India's torch-bearer in sports."
All the dignitaries on the dais, including governor Anandiben Patel and CM Yogi Adityanath, were presented with special hockey sticks and other mementoes by the officials of the Indian Olympic Association.
Close Story