PM Modi to inaugurate Kashi tent city virtually on Jan 13
Published on Jan 07, 2023 01:50 PM IST
Established on a 100-hectare area opposite the ghats of Varanasi towards Ramnagar, the Kashi tent city is expected to bring much relief to the tourists who often have to struggle to get accommodation during the peak season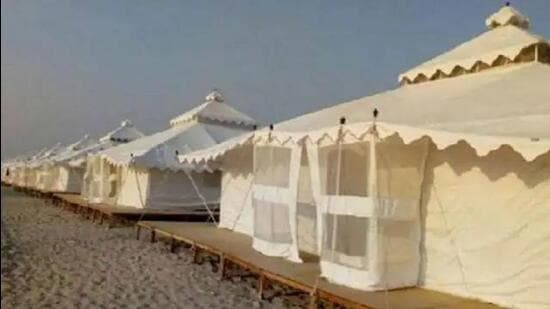 Prime Minister Narendra Modi will virtually inaugurate the Kashi tent city, developed on the lines of the one at Rann of Kutch in Gujarat, on January 13.
Established on a 100-hectare area opposite the ghats of Varanasi towards Ramnagar, it has the capacity to accommodate 200 people and is equipped with Swiss cottages, broadly of three categories—Ganga Darshan Villas, premium tents and super deluxe tents, officials with the Varanasi Development Authority (VDA) said.
"Construction of the tent city has reached its final phase. Hence, efforts are being made to ensure proper security and safety to tourists," said Kaushal Raj Sharma, divisional commissioner, who recently inspected the tent city along with Varanasi police commissioner Ashok Mutha Jain.
Sharma said after its inauguration on January 13, bookings for the tent city will be made open for the public from Makar Sankranti onwards. Makar Sankranti is on January 14.
The 900-square feet Ganga Darshan Villas are the largest and can be booked at ₹20,000 per person for one night and two days.
The package for premium tents and Super Deluxe tents, both measuring 500 square feet, is ₹14,000 and 12,000 respectively.
Initially, the plan was to complete the work before Deepawali 2022. But, following the prolonged flood-like situation in the Ganga and due to technical reasons, the tent city could not be established in accordance with the initial deadline, officials with VDA said.
Rahul Mehta, president of the Tourist Welfare Association, Varanasi, said, of late, Varanasi has witnessed a surge in the numbers of inbound tourists. As per the records with the Uttar Pradesh government, over 70 million tourists visited Kashi in 2022.
Mehta said the tent city is expected to bring much relief to the tourists who often have to struggle to get accommodation during the peak season.