Prayagraj: Seven injured in fire at Magh Mela camp
Jan 29, 2023 12:12 AM IST
A team of fire-fighters brought the flames under control quickly. The injured pilgrims were first taken to a hospital in the Magh Mela area. After first aid, they were referred to the Swaroop Rani Nehru (SRN) Hospital
Seven people, including a woman, sustained burn injuries in a fire at a Magh Mela camp in Prayagraj allegedly due to a gas leakage on Saturday afternoon, officials said.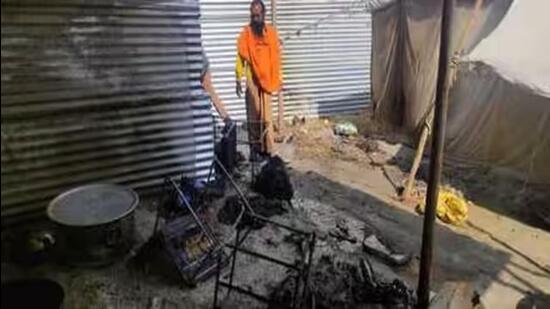 In no time, the flames engulfed the camp located in Sector 4 of the Magh Mela tent city where pilgrims were cooking food.
A team of fire-fighters brought the flames under control quickly. The injured pilgrims were first taken to a hospital in the Magh Mela area. After first aid, three were referred to the Swaroop Rani Nehru (SRN) Hospital, the officials added.
The injured, mostly belonging to the neighbouring Pratapgarh district, have been identified as Raj Bhushan Singh, 37, Usha Singh, 55, Shivpujan Tiwari, 59, Vitthan Singh, 50, and Vijay Singh, 49, besides Chutney Lal, 32, and Indra Pal Singh, 44.
Senior superintendent of police (SSP), Magh Mela, Rajeev Narain Mishra said that the incident took place in the camp of Brahma Rishi Swami Atmanand Bhakti Sansthan in Sector 4 of the tent city.
"The fire broke out when food was being cooked by pilgrims for a community meal that was to take place in the camp. Seven pilgrims involved in the cooking of food sustained burn injuries in the incident and have been taken to the hospital for treatment," he said.
"We have 14 fire stations set up in the mela area and the responding team of fire-fighters managed to put out the fire before it could engulf nearby tents. The incident is believed to have happened due to a possible gas leakage. Food items, chairs and other items got burnt in the fire incident," he added.