Another text in HC cited to prove validity of changed nass
Feb 04, 2023 12:44 AM IST
Mumbai: On the 28th day of the final hearing of the Syedna succession case in the Bombay high court, defendant Syedna Mufaddal Saifuddin's counsel on Friday cited a book titled 'Al-Sulaimaniyyah' to reiterate that nass could be changed
Mumbai: On the 28th day of the final hearing of the Syedna succession case in the Bombay high court, defendant Syedna Mufaddal Saifuddin's counsel on Friday cited a book titled 'Al-Sulaimaniyyah' to reiterate that nass could be changed.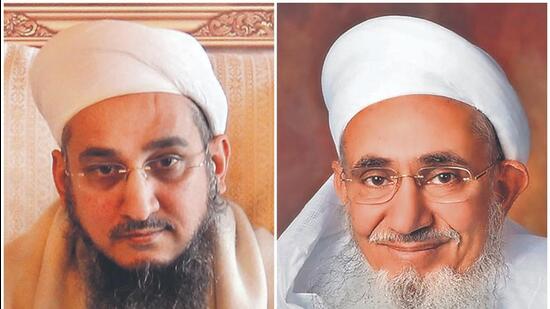 The book written by Syedi Luqmanji Habibullah, who was given the title of 'Bab-ul-Ilm' (Door of Knowledge) by the 39th Dai, stated that a nass, like a will, could be changed by the testator till the last moment of his life, and the last nass was to be considered final.
The HC was informed that though the plaintiff had raised doubts about the manuscript of the book present with the community, the markings on both copies proved that they were genuine and hence reliable, with which the court agreed.
Senior advocate Fredun Di'Vitre, while continuing arguments on the changeability of nass and which one was considered valid, informed Justice Gautam Patel that after the book 'Al-Muzayyanah', which was written during the time of the 27th Dai, 'Al-Sulaimaniyyah', written during the time of the 39th Dai, also dealt with the issue. Just like 'Al-Muzayyanah' said that nass was like a will and could be changed by the conferer till the last moment of his life, 'Al-Sulaimaniyyah' reiterated the same—it maintained that a will made by a testator at any time of during his life, if it remained unchanged till the last moment of his life, was valid and had to be acted on upon after his death.
The bench was told that when read in its entirety, the words of Syedi Luqmanji were proof of the Dawoodi Bohra belief with regard to the changeability of nass.
Di'Vitre then dealt with the objection raised by the plaintiff regarding the genuineness and authoritativeness of the book as well as his doubts on who the author of the book was. The bench was informed that 'Al-Sulaimaniyyah' was a collection of treatises refuting the claims of the Sulaimanis. Di'Vitre drew the attention of the bench to the bibliography of dawat texts (Fehriste Kutub) to show that the paragraphs cited in the bibliography matched with the opening paragraphs of the 'Sulaimaniyyah', and a defence witness had confirmed the same.
Di'Vitre further informed the bench that the sister of plaintiff Syedna Taher Fakhruddin had also referred to the book written by Syedi Luqmanji, which showed that the author was a reliable one and his work was authoritative. plaintiff.