At Malabar Hill in Mumbai, 700-m walkway with a view of Arabian Sea
Updated on Aug 24, 2021 04:17 PM IST
The Brihanmumbai Municipal Corporation (BMC) has floated bids for construction of the walkway at a cost of ₹12 crore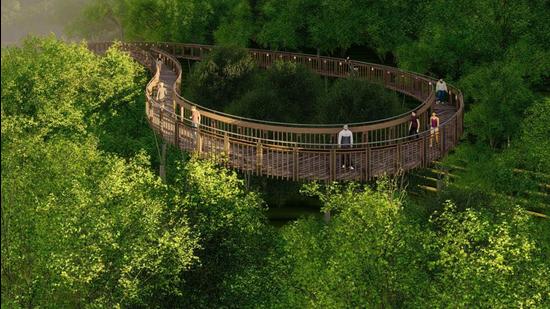 In the next nine months, citizens will get a 700-meter-long walkway at Malabar Hill to get a bird's eye view of the Arabian Sea.
The Brihanmumbai Municipal Corporation (BMC) has floated bids for construction of the walkway at a cost of ₹12 crore. According to BMC officials, citizens will be charged a nominal entry fee for using this wooden walkway that will be constructed in lush greenery near Hanging Garden. The walkway will be located near Babulnath Temple and will wind through the hill forest giving unobstructed scenic views of the Arabian Sea and the bustling city. The design for the forest trail at Malabar Hill is expected to be constructed without cutting any tree considering the concept is to build in lush greenery.
There are around eight types of trees on the site, including gulmohar, almond (desi badam), copperpod, mango, coconut, rain tree, jamun and jackfruit. The lush greenery is also home to several birds and is expected to be having a lot of visitors who are bird watchers.
Mumbai-based architect Rahul Kadri of IMK Architects who has worked on the design of the project said, "The city has several skywalks, but there are no elevated leisure walkways. From the ground, the trail will be raised by at least 2m and is likely to reach an estimated 10m in accordance with the forest's changing contours. We have incorporated benches, viewing decks and a glass-bottom look-out zone at its widest point to further enhance the experience. Minimal lighting will be incorporated in the handrail to just keep it enough to light the trail without spilling into the forest and disturbing the native animal species."
According to the tender floated by the BMC, a ticket counter and public toilet will also be constructed on the site. A BMC official said, "A nominal entry fee will be levied on the visitors for the upkeep of the walkway and also to ensure that we have genuine visitors. We are expecting that the walkway will easily handle more than 100 visitors at a time."
Considering the landslide in the vicinity a year ago, the BMC officials said during the soil investigations for the project, they have also considered those aspects in order to decide on the construction modalities. The BMC is expected to finalise the contractor for construction by the end of this month and the work for the project is expected to start by the end of September. The BMC has given eight months duration for the contractor to complete the work.
Personalise your news feed. Follow trending topics