EEH stretch from Airoli to Mulund gets
₹

3-crore facelift

Jan 09, 2023 12:53 AM IST
Two months after the BMC took over the Eastern Express Highway (EEH) from MMRDA for maintenance, the results are on display in the stretch from Airoli bridge to Mulund toll naka. A ₹3-crore spend has resulted in some much-needed changes in the area aimed at easing traffic congestion, preventing flooding and generally enhancing aesthetic appeal
MUMBAI: Two months after the BMC took over the Eastern Express Highway (EEH) from MMRDA for maintenance, the results are on display in the stretch from Airoli bridge to Mulund toll naka. A ₹3-crore spend has resulted in some much-needed changes in the area aimed at easing traffic congestion, preventing flooding and generally enhancing aesthetic appeal.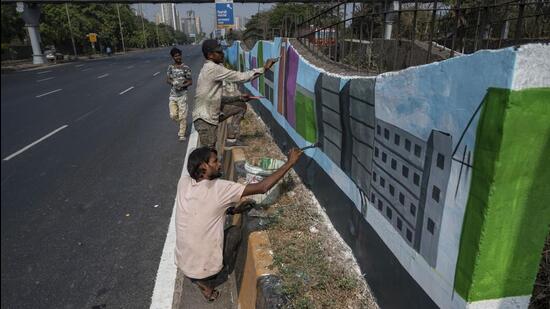 While a lot of the work is over, some of it is still on. Chakrapani Alle, assistant municipal commissioner, T Ward told Hindustan Times that the T ward stretch on EEH from Nahur to Airoli up to Mulund toll naka had been spruced up. "The neglected stretches, which were originally with MMRDA, have been attended to," he said.
Alle said that at many places from Airoli bridge to Mulund toll plaza, the storm water drains (SWDs) and manholes were in terrible shape. "The SWDs are choked, and we are cleaning the entire stretch," he said. "On both sides of the EEH, especially near the Morya Talav side where Ganesh visarjan happens, there used to be major flooding. During Anant Chaturdashi, I personally saw the entire stretch getting flooded within 10 minutes of heavy rains. I learnt that there was no SWD at that place. We are constructing a new SWD now."
Water would stagnate at a few places on the EEH, said Alle, but added that it would not happen henceforth. "The SWDs were either broken or missing, so we have replaced most of them," he said. "The entire stretch of SWDs at EEH is being redone, and broken chamber covers are being replaced with new covers. We are also removing the unauthorised garages operating near the flyover at Navghar junction near Morya talao."
On the aesthetics front, the entire median of EEH, three metres wide and two km long, has been beautified with flowering plants. "The wild vegetation has been removed, and we have planted flowering shrubs along with trees on the middle divider," he said. "We have repaired footpaths on both sides and on the service road and lighted them up. On the highways, we have painted the kerbstones and dividers. We have also done lane markings and zebra crossings which didn't exist earlier."
The refurbishment will be completed by the end of March, and is being done in two phases. T ward has also beautified the entry point to Mulund at the toll naka.
On September 17, Hindustan Times was the first to report how the BMC had evinced an interest in taking over the maintenance of Western Express Highway (from Bandra to Dahisar) and EEH from Sion to Mulund from MMRDA and becoming the single nodal agency for maintenance. Municipal commissioner Iqbal Singh Chahal had announced it at a meeting with the assistant commissioners of 24 administrative wards in September.