Kharghar couple crowdfunds to save baby, medicine costs
₹

17.5 cr

Feb 03, 2023 12:39 AM IST
A Kharghar couple, who recently found out that their 15-month-old son is positive for Spinal Muscular Atrophy (SMA), are racing against time to raise ₹17.5 crore for a one-time drug that needs to be administered before the child turns two
Navi Mumbai: A Kharghar couple, who recently found out that their 15-month-old son is positive for Spinal Muscular Atrophy (SMA), are racing against time to raise ₹17.5 crore for a one-time drug that needs to be administered before the child turns two. The parents have managed to arrange only ₹3 crore till now.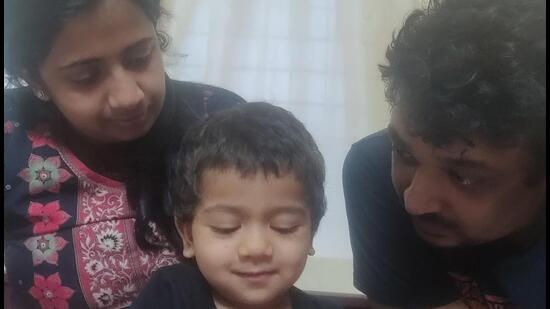 Nirvaan, born on October 13, 2021 to Kharghar-based software engineer Adithi Menon and marine engineer Sarang Menon, was first diagnosed with a condition called hemivertibra even before he was born during a pre-natal scan. "We were told that it was a quite a common condition which might lead to scoliosis and worst possible chances are of a spinal surgery, which will require ₹6 lakh. We were advised to take X-rays every six months," said Sarang.
"Since we were assured that it has a treatment, we were relieved. It was due to this diagnosis that we were very cautious about his milestones and were meeting up with doctors regularly," he added.
The first six-monthly X-ray report was fine and the doctor asked them to do the next X-ray after six months. When he was 13 months old, the parents realised that the baby was not able to sit for more than five seconds.
"Our first thought was that due hemivertibra, some nerves might have got compressed. The X-ray showed there was a 19-degree curvature, and the orthopedic doctor advised placing external braces on the spine and after he turns three, a surgery will have to be done," said Sarang.
"To understand the cause of this, we met a neurosurgeon, who asked to get an Electromyography (EMG) test in which it was found that our baby had nerve conduction at four points of which one was at neck, elbow and two at the lower body," the father added.
The father, who was sailing while the tests happened, decided to signoff and return home in December when the doctor suspected that the child could be SMA positive and asked for a genetic disorder test.
"I was on the ship when I heard about the test for SMA, I was shattered. I was hoping that it turns negative. I signed off and came back home and on January 19, our worst fears came true. Nirvaan was found to be SMA positive type 2," said Sarang.
Dr. Pramod Bhor, HOD-Orthopedic Surgery, Fortis Hiranandani Hospital, Vashi said, "SMA is a genetic disorder in which the motor neurons and the muscles around the spine are affected. As no signal goes to muscles, they are under-utilised and they become smaller in size. The chances of SMA are high if the parents of the child are related to each other."
Nirvaan's parents are not related to each other but have become the carriers to a defective gene which caused the condition in the child. "The only way to save my son is by procuring Zolgensma by Novartis, which is a one-time drug for the disease and it costs ₹17.5 crore. We have started crowdfunding for the baby. Otherwise, there is no way we can afford it.
"He turns two on October 13 and the medicine needs to be procured before that and to do so, the order for the medicine needs to be placed by September. The more it's delayed, the damage done will be more. We are running short of time," added the distraught father.