Maha's first integrated hazardous waste plant gets nod
Published on Jan 22, 2023 12:31 AM IST
The facility will come up on 53 acres of land and will be able to process at least 4,50,000 million tonnes per annum of dangerous waste materials from in and around the Mumbai Metropolitan Region (MMR) and adjacent districts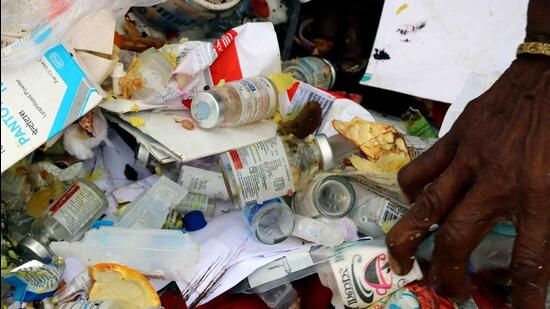 Mumbai: The state's first integrated plant to process a variety of hazardous wastes has been granted approval and will come up in Raigad's Kansal and Hendavli villages.
The ₹105 crore facility — which will be able to process e-waste, biomedical refuse, industrial waste, spent oil, plastics and paper -- has been granted in-principle approval from the Union environment ministry, allowing for preparation of an environment impact assessment report and public consultation.
The facility will come up on 53 acres of land and will be able to process at least 4,50,000 million tonnes per annum of dangerous waste materials from in and around the Mumbai Metropolitan Region (MMR) and adjacent districts. This will be more than any other plant in the state, and will be able to incinerate, landfilling and recycle waste.
The decision was taken on January 11 in a meeting of the Ministry of Environment, Forest and Climate Change of India's (MoEFCC) expert appraisal committee on infrastructure projects.
"At the moment, different types of waste are treated in different facilities in Maharashtra, which leads to increased costs for transporters and recyclers," said a regional officer with the Maharashtra Pollution Control Board (MPCB) in Raigad.
"This integrated plant will cater to commercial, industrial and healthcare units which are coming up in and around Raigad district, and which are already existing around the Thane Creek," said the officer.
A pre-feasibility report prepared by the Mumbai Waste Management Ltd., which is executing the project, states, "The city of Mumbai and the state of Maharashtra are witnessing the formation of many densely populated regions / industrial zones where management of burgeoning wastes, both municipal solid waste (MSW) and industrial hazardous waste (IHW), has become a very critical issue."
"A major concern about the hazardous wastes is that, they need to be disposed of in a secured manner in view of their toxic nature, environmental pollution and wide range of health hazards.
"At present, the waste generated from industries, commercial and residential activities are either indiscriminately disposed in open areas/within their units/given to small recyclers," states the report.
The project will be on the banks of Amba River, where a mega cement manufacturing plant is also slated to come up in the near future, prompting environmental concerns.
Nandakumar Pawar, an environmentalist tracking the impact of industrial expansion on the ecology of Raigad, said, "The river leads into the Thane Creek, and supports still supports local communities. There needs to be some sort of cumulative impact assessment because waste plants in India have always led to major disruption in their vicinity, despite what authorities and contractors have always promised."