Mumbadevi precinct up for a
₹

20 crore makeover

Jan 18, 2023 12:56 AM IST
Mumbai: The Brihanmumbai Municipal Corporation (BMC) has planned a revamp of the precinct of the over 200-year-old Mumbadevi temple
Mumbai: The Brihanmumbai Municipal Corporation (BMC) has planned a revamp of the precinct of the over 200-year-old Mumbadevi temple. Mumbadevi is considered the city's presiding deity. The civic body has allocated ₹20 crore for the transformation along the lines of Kashi Vishwanath temple, in Varanasi.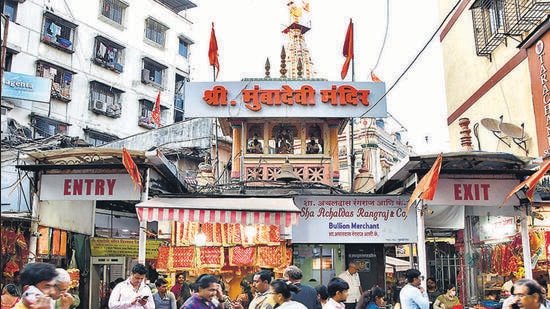 It has been touted as a dream project of chief minister Eknath Shinde, deputy chief minister Devendra Fadnavis and guardian minister of the island city, Deepak Kesarkar. The project was greenlit by Kesarkar on Tuesday after BMC made a presentation. It will now be thrown open for suggestions and objections from the public.
In its new avatar, 30 licenced and 190 unofficial hawkers will be shifted from the area, so that it resembles the Varanasi template. "The temple precinct will be visible from all sides and free of traffic jams it witnesses right now. It will be citizen friendly, with toilets and drinking water facilities and a bazaar with identical shops," revealed a senior civic official.
The plan will include shops inside and outside the temple premises, bearing a uniform design and colour coding, already discussed with shop owners, he added. "Hawkers will be segregated and operate in demarcated spaces in an organised way, away from Mumbadevi Road."
Other facilities will include a walkway for pilgrims who can shop along the way, escalators, wide roads and a space for police patrolling.
There are three roads passing from Mumbadevi -- Tamba Kata Road at the entrance of the temple, Kalbadevi Road that leads to an internal entry and the Mumbadevi Road itself, which is meant only for pedestrians and which will be widened. "The design will align with the temple's original art," said the civic official.
The idea to spruce up the Mumbadevi precinct first took shape after the Maharashtra State Human Rights' Commission (MSHRC) took suo motu action against BMC in September 2022, following a news report which highlighted how the space around the temple was crowded by hawkers and encroachers, leaving no room to set up drinking water kiosks and wash rooms for visiting pilgrims.
"At the time MSHRC had asked BMC about plans to reform the Mumbadevi area," said a senior civic official. A municipal school which stood near the temple's premises was demolished in 2011 and the vacant plot was demarcated for a parking lot in development plan (DP) of 2034.
In November, last year, the Mumbadevi Temple Trust demanded that the land be handed over to them, but after a subsequent meeting with Kesarkar and civic officials, the decision did not go in their favour. "However, since the issue of freeing the area around the parking lot remained, as the MSHRC had asked for it, we decided to chalk out this plan," said the senior civic official.