Nanded girl gets National Bravery Award for saving brother's life from electric shock
Jan 14, 2023 10:41 PM IST
Mumbai: Laxmibai Ananda Yedlewar of Thadisawali village in Nanded district was conferred the 'National Bravery Award' by the Indian Child Welfare Council in New Delhi on Saturday for saving her younger brother Arun's life from being electrocuted
Mumbai: Laxmibai Ananda Yedlewar of Thadisawali village in Nanded district was conferred the 'National Bravery Award' by the Indian Child Welfare Council in New Delhi on Saturday for saving her younger brother Arun's life from being electrocuted.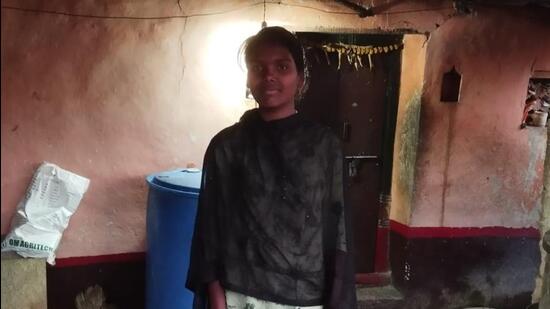 Laxmibai and her brother were home alone in September 2021 when the incident took place. Yedlewar's father, Ananda recounted, "Our neighbour had installed a tin roof and in order to keep it stable, they tied the tin with an iron wire horizontally on top and tied the same to a stone outside the house."
What transpired next was a nightmare as the electricity travelled down the tin sheet into the iron wire after rats chewed the wire of a ceiling fan which was connecting to the iron rod.
Lakshmibai's younger brother Aditya Yedlewar, (age 4), accidentally touched the wire in the front yard as he was walking by. Lakshmibai was then 13 years old. When the electric current raced through his body, he screamed and shuddered. Lakxmibai, sprinted while shouting, desperately attempting to save Aditya with a stick. Risking her life, she rescued her brother from the wire with her hands.
Ananda, a farm labourer who works in other people's fields, said, "While saving Aditya's life, she got stuck to the wire. When her uncle Dhondiba Yedlewar heard her voice, he sprang into action and saved her with a stick. But shortly after, Lakxmibai passed out. She was frothing after being electrocuted. She was rushed to the hospital by her uncle and after treatment, she became conscious."
Lakxmibai remarked, "In one of the lessons in the standard seventh book, we were taught to rescue an electrocuted person using a wooden stick method. Aditya was strangled by a wire, and I used the same method to save his life."
Lakxmibai, who attended the Zilla Parishad Primary School in Thadisavali till class 5, said she is humbled and excited to receive the bravery award.
Currently, she reads at Manjulabai High School in Khatgaon. Residents of Thadisavali village as well as Darshan Bhandare, a graduate of Manjulabai High School who is currently employed as a teacher in Palghar, assisted in following up the paperwork for the mentioned award from Gram Panchayat to the National level, according to Ananda. On January 26, Republic Day, in New Delhi, this National Award will be conferred upon her.