Navi Mumbai airport blasts shake Belapur, NRI buildings, claim residents
Jan 22, 2023 12:04 AM IST
NatConnect Foundation, which has received several calls from the people seeking help, has sent an SOS to Chief Minister Eknath Shinde calling for a high-level intervention and ensuring that the intensity and frequency of the blasts are reduced
NAVI MUMBAI: The high-intensity blasts during the ongoing work at Navi Mumbai International Airport (NMIA) site is causing tremors akin to earthquakes and leading to huge cracks in buildings, according to complaints by residents along the creekside at CBD-Belapur and other areas.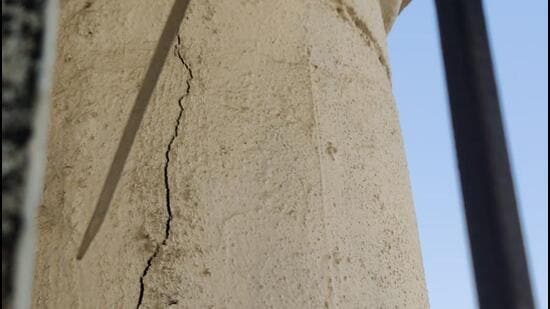 Responding to the complaints, the Navi Mumbai International Airport Authority Limited (NMIAL) and the City Industrial Development Corporation (CIDCO) are passing the buck to each other.
NatConnect Foundation, which has received several calls from the people seeking help, has sent an SOS to Chief Minister Eknath Shinde calling for a high-level intervention and ensuring that the intensity and frequency of the blasts are reduced.
"It is shocking that the blast impact is being felt miles away across the creek on the northern side of the NMIA site causing cracks in buildings and threatening lives," said B N Kumar NatConnect director.
"The project proponents ought to realise that the CBD Belapur side is well populated and several senior citizens, patients and children live in the buildings," he said.
Rohit Agarwal, secretary of Arenja Towers Cooperative Housing Society at Sector-11, claimed his building suffered several cracks in the window ledges, walls and even pillars due to these high-intensity blasts.
Initially, the blasts were somewhat tolerable, but now not only the intensity, but the frequency has also increased, claimed Agarwal.
"Our society members have been complaining about windows rattling, cracks developing in the walls, imbalance and cracks in floor tiles, loosening of plaster etc," he said.
Another resident, Shilpa Shetty, said that the other buildings in the neighbourhood are also badly affected. "My fear is that the window glasses can break and fall on us," she said.
Activist Subhangi Tirodkar, who lives in Sector-15, said, "Our windows and furniture rattle with the airport site blasts. The area also has thick dust clouds and the air quality here is terrible. It is highly disturbing for senior citizens and children," she said.
The blasts could even impact the strength of the structures, Kumar said he has advised the residents to get structural audits done by civil engineers so that the issue can be taken up at the highest level.
Communication professional Sanjay Rammoorthy, who lives at Seawoods NRI complex, said he, too, experiences the vibrations and his windows rattle violently.
Kumar has requested the CM to instruct the airport management to reduce the intensity of blasts and spray recycled water to contain the dust pollution
Responding to the complaints, a NMIAL spokesperson said, "These are incorrect allegations. CIDCO is the appropriate authority to answer this." A CIDCO official, however, said, "CIDCO has completed its work at airport site. So, NMIAL can give their statement."