Stop #Boycott Bollywood spin, Sunil Shetty tells CM
Jan 06, 2023 11:42 AM IST
Mumbai: Uttar Pradesh chief minister Yogi Adityanath, during his road show in Mumbai to attract investment for his state, made a concerted attempt to woo Bollywood as well
Mumbai: Uttar Pradesh chief minister Yogi Adityanath, during his road show in Mumbai to attract investment for his state, made a concerted attempt to woo Bollywood as well. Over 40 film and television personalities attended the interaction session with him at the Taj on Thursday evening, among them Subhash Ghai, Chandraprakash Dwivedi, Boney Kapoor, Sonu Nigam, Madhur Bhandarkar and Jackie Shroff.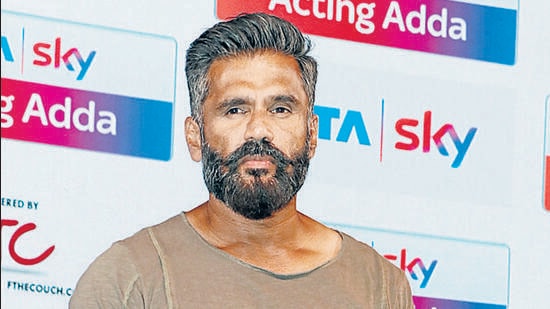 Yogi held forth on the attractions of UP, including the fact that it won the "most film-friendly state" award at the 64th and 68th National Film Awards. "We have picturesque locations, and the state's contribution to the art sector is significant. We are developing international airports, four-lane highways and metro lines. We are offering 50 percent subsidy for web series and 25 percent subsidy for studio laboratories," he said, inviting Bollywood to shoot at the 1,000-acre Film City the government is constructing.
This did not go down very well with a section of stakeholders in the industry. Veteran actor and producer Suneil Shetty brought up the hatred spread against the Hindi film industry with the #Boycott Bollywood propaganda on social media. "This should stop, and it can stop if you take the lead," he told Yogi. "This is a stigma for us, and it is very important to remove it. We would urge you to speak to Prime Minister Narendra Modi to correct this anti-Bollywood sentiment."
Shetty declared that 99 percent of people in Bollywood were good people. "We don't take drugs, and it's not like we do bad things throughout the day," he said with a smidgeon of sarcastic humour. "There are rotten apples in every sphere, but that doesn't make everyone a rotten apple."
Director Chandraprakash Dwivedi said there were two areas the UP government needed to work on— safety and facilities. "I have been shooting in UP since 2000, and most of my projects are historical," he said. "Red-tapism and crowd control are the major problems we face. When we want to shoot with drones over the Ganga, we are denied permission on the pretext that it is the prime minister's constituency. When the prime minister is not there in the constituency, why should there be any problem in giving permission? If the red-tapism is done away with, more people will come to shoot in UP."
One of the film personalities present made an interesting point—she drew attention to the fact that UP accounted for only six percent of the total revenue from film exhibition in India despite it being the largest Hindi-speaking state in the country.
In response to the concerns raised over safety, Yogi said the crime rate in the state had reduced drastically, and people from Mumbai were not scared to visit Azamgarh, like in the past. "UP has become a safe state for any industry or sector, including the film industry," he said. "We have improved road and air connectivity—nine airports are already operational, and 10 more are under construction. We have transformed the state, and crimes and riots have no place here. People talk only about development. We want to utilise your expertise and your suggestions are welcome."
Yogi said the upcoming Film City in UP had been designed keeping in mind the technological advancement and requirements of the next 50 to 100 years. "The Film City is in close proximity with the upcoming airport in Jewar (touted as Asia's largest airport) and is just a 45-minute drive from historical Mathura-Vrindavan," he said. "We have many historical and religious locations available to shoot films and TV shows."
Shiv Sena (UBT) MP Sanjay Raut raised an objection to Yogi's road show. "If he has come to invite industrialists for the development of his state, we have no objection," he said. "But if he has come to snatch away the projects and industrial investment from Maharashtra, we strongly oppose it. Why does the UP CM need to hold a road show in Mumbai for investment in UP?"
Raut said that no matter how hard UP tried to take Bollywood from Mumbai, it would not succeed. "Do you think Amitabh Bachchan or Madhuri Dixit or any other actor would like to go and settle in Lucknow, Ghaziabad and Faridabad?" he questioned.