Uddhav rejigs portfolios, drops 9 rebel ministers
Jun 27, 2022 10:59 PM IST
Their portfolios have been reallocated under rule 6A of the Maharashtra Government Rules of Business, 1990, said a statement from the chief minister's office
Mumbai: Chief minister Uddhav Thackeray on Monday rejigged ministerial portfolios so that "public welfare is not stalled." Nine ministers, including Eknath Shinde, who are in Guwahati were stripped of their ministership.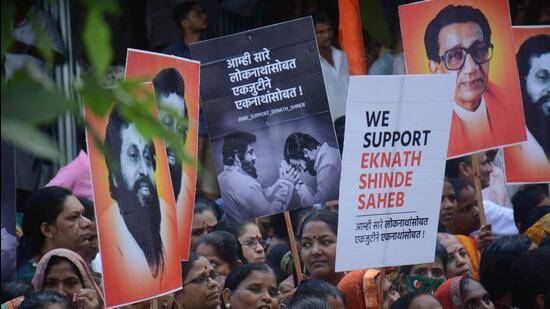 Among those dropped are 5 cabinet ministers and 4 ministers of state (MoS). Their portfolios have been reallocated under rule 6A of the Maharashtra Government Rules of Business, 1990, said a statement from the chief minister's office. "Chief Minister Uddhav Thackeray has decided to hand over the portfolios of five absent ministers and four ministers of state to other ministers to ensure smooth functioning of the departments, and in case of heavy rains and calamities, the departments function properly," the statement said.
Senior minister Subhash Desai has been given the charge of the urban development and public works department (MSRDC), which was with Eknath Shinde. Aaditya Thackeray has been given additional charge of higher and technical education department which was earlier with Uday Samant. Anil Parab has been allocated the additional charge of rebel minister Gulabrao Patil's portfolio of water supply and sanitation. The agriculture portfolio, earlier with Dadaji Bhuse, and employment guarantee and horticulture, held by Sandipan Bhumare, are now with Shankarrao Gadakh.
"The Opposition can say government functioning has stalled and use this as a reason to go to the governor," said a senior Sena leader. "We didn't want to give them that chance." The MoS portfolios have all been distributed among the three MVA parties. Shambhuraj Desai's departments MoS home (rural), finance, planning and skill development have been distributed to Sanjay Bansode, Satej Patil and Vishwajit Kadam. The portfolios of Rajendra Patil Yedravkar--MoS for health, medical education, food and civil supplies, and textile--have been given to Vishwajeet Kadam, Prajakt Tanpure, Satej Patil and Aditi Tatkare. Three portfolios with Abdul Sattar are now with Tanpure, Satej Patil and Tatkare. Four charges with Omprakash (Bachhu) Kudu were distributed among Tatkare, Satej Patil, Sanjay Bansode and Dattatray Bharne.
Speaking at a gathering of party workers and functionaries in Karjat, Aaditya Thackeray said about the cabinet reshuffle, "We did not change the portfolios for the first few days, but could not wait any longer. Where is the Urban Development and MSRDC minister? He's missing. Now the sowing season has come, monsoon is delayed, but where is the agriculture minister? He is missing too. There was drought until now, but where is the water supply minister? Missing."
In addition to change in the portfolios Uddhav has also effected some change in the organisation following Eknath Shinde's rebellion. The party removed functionaries in Raigad district, including the chief of the local unit. Mahendra Dalvi, legislator and Alibaug head of the Sena was also removed from the post along with some lower level functionaries it is learnt. "Our strength is the cadre right from the shakha level. Given the rebellion, there would be loyalists from the constituencies of MLAs who are with the Shinde camp. We are in the process of identifying newer faces and will soon be inducting them," said a senior party organiser.
The process to change local level leaders has started from Raigad district from where three legislators--Bharatshet Gogawale, Mahendra Dalvi and Mahendra Thorve--have joined the Shinde camp. The process will be replicated in Mumbai where a Vibhag Pramukh--Sada Sarvankar--joined the Shinde faction. In addition, Bharatiya Kamgar Sena and other unions too are being strengthened, he added.
"Exciting news! Hindustan Times is now on WhatsApp Channels
Subscribe today by clicking the link and stay updated with the latest news!"
Click here!