Woman with disability gets her eyesight back after cataract surgery
Jan 20, 2023 05:23 PM IST
Soon after her doctor removed the cloth from her eyes after the operation, she clapped her hands, laughed out loud, and smiled at the doctor and staff at Thane civil hospital. Though doctors said she was 21 years old, her exact age could not be confirmed
Thane: It was a sight to behold when a 20-year-old blind woman with disability regained her eyesight after a cataract operation at Thane civic hospital. The patient, who was described as silent, and inactive all these years, started talking enthusiastically and expressing her emotions seconds after she could see clearly.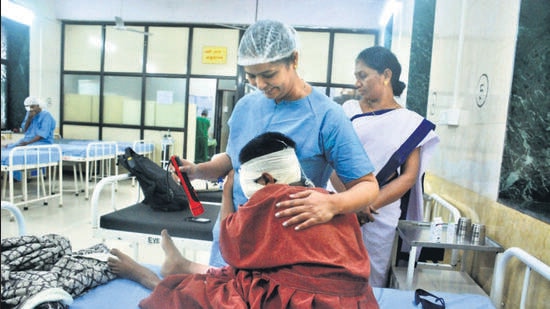 Soon after her doctor removed the cloth from her eyes after the operation, she clapped her hands, laughed out loud, and smiled at the doctor and staff at Thane civil hospital. Though doctors said she was 21 years old, her exact age could not be confirmed.
"I have carried out so many operations of eyes in my career, but have never experienced this joy when I saw her rejoicing at the moment. When it comes to disabled patients, eyes are the only way to express their feelings and expressions. When they don't have eyesight, it becomes very difficult for them to communicate. She used to be quiet earlier with very less activity. For the first time we saw her smiling and laughing after she regained her vision," said Dr Shubhangi Ambadekar, ophthalmic surgeon, at Thane civil hospital.
The patient, who speaks Bengali, could not understand any other language, claimed the doctor. The doctor then called up her Bengali-speaking friend who guided the patient in the language throughout the operation over the phone call. Dr Rupali Yadav administered the anaesthesia for the surgery.
She was admitted to the Thane mental hospital for several years and by the time of the operation, she was 100 percent blind. She used to sit in the corner quietly, without speaking to anyone, eat a little and sleep and follow the same pattern of behaviour day after day. The staff at Thane mental hospital remembers her as a silent, not-so-friendly member as she was not very active in communicating like others.
"The exact reason why she was quiet was due to the loss of eyesight. She was brought to the civil hospital 8 days ago for a check-up. After the check-up, we decided to conduct the surgery for her. Throughout the process, she was clueless about what was happening. Even when we wheeled her into the operation theatre, she was quiet and confused. After the operation, she had changed as a person completely," said Dr Ambadekar, who has carried out over 10,000 operations at the civil hospital in the last three years.
Her caretaker at the mental hospital Ratnakala Waghachkar said, "Soon after she realised she could see clearly, she opened up and started speaking about herself. She also said she wants to drive one day. I think she was recollecting her memories from her past and expressing it to me. I was so happy to see her that I could not control my tears. It is one of the best and most unforgettable experiences I have had in my career."
"It is not that if a person is disabled, we should ignore cataract issues they may have developed. Regular eye check-up is necessary to identify it on time and treat it. In such cases, the patients don't communicate and we assume it is due to their mental illness. In this case, she did not communicate because she could not see. It is very important to do the check-up on time," Dr Ambadekar told HT.