Ghaziabad girl kidnapped for ransom murdered in Bulandshahr
Published on Nov 22, 2022 11:42 PM IST
The unidentified kidnappers had demanded ₹30 lakh ransom from the girl's father, who lives in Sonipat, Haryana, and gave him a three-day deadline to hand over the money. The girl, who was a student of Class 4 at a private school in Ghaziabad, stayed with her maternal grandparents since childhood in a locality under the jurisdiction of Nandgram police station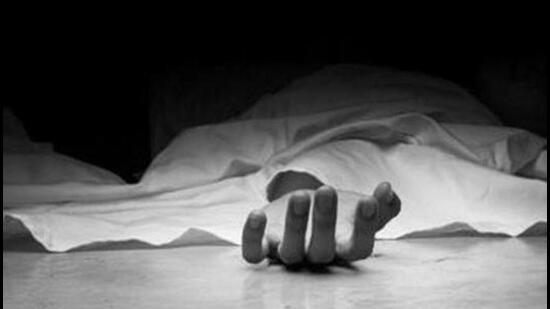 On a day when chief minister Yogi Adityanath visited Ghaziabad for inaugurating a host of projects, the 11-year-old girl who was kidnapped for ransom from the city on Sunday was allegedly murdered by her abductors. Her body was recovered from agriculture fields in Bulandshahr district on Tuesday afternoon, police said.
The unidentified kidnappers had demanded ₹30 lakh ransom from the girl's father, who lives in Sonipat, Haryana, and gave him a three-day deadline to hand over the money.
The girl, who was a student of Class 4 at a private school in Ghaziabad, stayed with her maternal grandparents since childhood in a locality under the jurisdiction of Nandgram police station. Her parents and two siblings stay in Sonipat.
The police said that they have picked up three suspects – Bablu Kumar and Amit Kumar, who are residents of the same locality where the girl lived, while the third suspect Gambhir Singh is a resident of Bulandshahr district. The three men are stated to be in the age group 35-40 years.
"The girl's family laid the suspicion on Bablu, who happens to be their immediate neighbour. When he was picked up by police, he said that he took the girl with him on Sunday morning as she knew him as well. Bablu later handed over the girl to his friend Amit near a temple in the locality. Amit was tasked to hand over the girl to Gambhir, who took the girl's custody near Dadri in Gautam Budh Nagar around 6pm on Sunday. Both Bablu and Amit had told Gambhir to kill the girl in order to protect their identities," said Deeksha Sharma, superintendent of police (crime).
After Bablu took the girl away from her house while she was alone and her grandparents had gone out for work, the suspects also made ransom calls to her father in Sonipat for the safe release of the girl.
The police said that Gambhir took the girl to Bulandshahr and strangled her in an agricultural field. The body was discovered on Tuesday afternoon at Nagla Poothi village under the jurisdiction of Dehat police station in Bulandshahr.
"After the three suspects were picked up by our teams, they told us the sequence of events and the kidnapping plot. The girl was killed on Sunday night in Bulandshahr and we are waiting for the post-mortem report. Prima facie, she was strangled and there are no signs of sexual assault. However, we are waiting for the autopsy report," SP Sharma said.
The police said that Bablu came to know from the girl's grandfather that he was about to receive some money as compensation.
"He had spoken to some locals about the money which he would receive and said that he would also purchase a plot of land. Suspect Bablu also came to know about it and planned the kidnapping in order to extract money. The three suspects are in our custody and are being questioned at length about the entire incident," said Alok Dubey, circle officer (city 2).
Police sources said that the girl's biological father died about 12 years ago and her mother was married to her brother-in-law, while the girl stayed with her maternal grandparents.
After the girl went missing from her house on Sunday, her father received the first ransom call at around 1.42pm and later a second call at around 3.35pm. He then contacted his in-laws and left for Ghaziabad.
The police said that the girl's father approached them around 5pm on Sunday and registered a complaint. But the FIR was registered at Nandgram police station only at 9.18pm.
Superintendent of police (city) Nipun Agarwal and senior superintendent of police Muniraj G did not respond to repeated calls for a response.
"The girl was murdered on Sunday night after Gambhir took her to Bulandshahr on his bike," SP Sharma added.
However, the exact cause and probable time of the death is yet to be ascertained as the autopsy report is yet to arrive from Bulandshahr.
The girl's father, who works as a construction contractor, said on Monday, "I received a call at 1.42pm on Sunday from an unidentified caller, who told me the name of my daughter and asked me to confirm whether I am her father. After I replied in the affirmative, he said that my daughter was with him and he asked me to pay ₹30 lakh within three days. He also said he will call again. The next call came at 3.35pm and he again demanded ₹30 lakh for her release. When I tried to probe him, he simply disconnected the call".
Personalise your news feed. Follow trending topics