UP government partners with HCL for Noida cyclothon on March 19
Published on Jan 19, 2023 11:49 PM IST
The cyclothon will be organised in three categories – for professionals, amateurs and a green ride. Only CFI-certified cyclists in the 19-35 age group will be able to participate in the 60km road race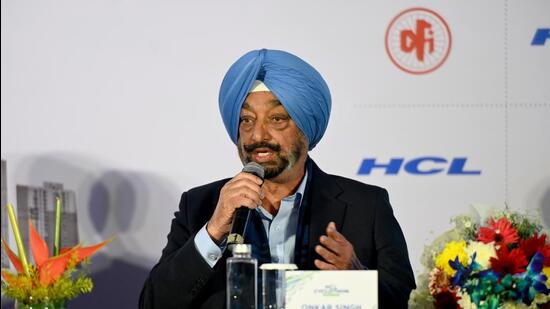 Tech firm HCL has partnered with the Uttar Pradesh government and the Cycling Federation of India (CFI) to organise the Noida Cyclothon in March, said state additional chief secretary, sports and youth welfare, Navneet Sehgal on Thursday.
The HCL cyclothon will be held in Noida on March 19, for which registrations will be open till February 28. Further details will be available online at www.hclcyclothon.com.
"Considering the growing awareness about the benefits of cycling and the government's thrust on environment friendly mobility, we are happy to associate with this event. It is also happening at an opportune time when India has taken up the G20 leadership and Noida is one of the host cities," said Sehgal.
Executives from HCL, which is headquartered in Noida, said the total prize purse of the cyclothon will be ₹32 lakh, which is the highest in India for any cycle race.
The cyclothon will be organised in three categories – for professionals, amateurs and a green ride. Only CFI-certified cyclists in the 19-35 age group will be able to participate in the 60km road race. The amateur race will include 60km of road race and 30km of mountain biking. This will be further subdivided – one for the 18-35 age group and another for 35+ age group. The green ride is a non-competitive 15km ride that will be open to all, including students.
According to Sundar Mahalingam, president-strategy, HCL, "Sports is a great leveller and can bring people together and this is why we are interested in sports. There has been a growing interest around cycling globally, both as a means of transportation as well as a sport. We are keen to build and support it, aiming to popularise it by giving professionals and amateurs a world-class platform and recognition. HCL Cyclothon is a long-term initiative and we plan to host this annually starting March this year."
CFI, the national governing body of cycle racing in India, will provide technical support, knowledge and expertise.
Onkar Singh, secretary general of Asian Cycling Federation, said cycling as a life choice is growing at a healthy pace that needs to be encouraged. "Competitive cycling continues to be a niche sport that we hope to grow and popularise through initiatives such as this. It will help nurture Indian professional cyclists while also reaching out to mass talent from across the country."