Bageshwar Sarkar urges seers, Hindus to unite for Hindu Rashtra
Feb 02, 2023 10:18 PM IST
Shastri visited the Magh Mela tent city and said that he was neither a politician nor has he any desire to play politics.
Head of Madhya Pradesh's Bageshwar Dham temple located in Chhatarpur district, Dhirendra Krishna Shastri (Bageshwar Sarkar), has said that if we all come together, Bharat would be a Hindu nation.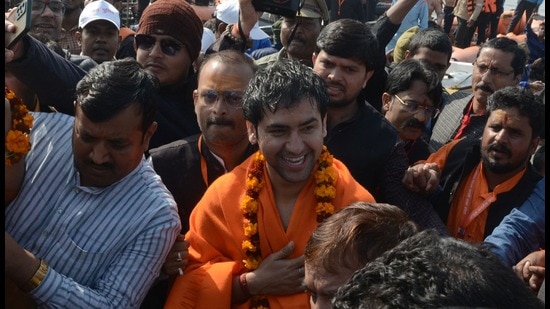 Addressing a gathering of pilgrims and seers at the camp of Maha Mandaleshwar of Nirmohi Akhada Santosh Das, aka 'Satua Baba' at Magh Mela tent city, on Thursday, Shastri said, "I have not come here to preach or give speeches but just to make a humble request to all the seers and Sanatani Hindus who have gathered from across the country, to come together by rising above caste divisions to realise the dream of transforming the nation into a Hindu rashtra."
Shastri said that he was neither a politician nor has he any desire to play politics. "Similarly, I also do not wish to hog the limelight of the media," he said.
"Very humbly, I have just come here to seek the blessings of the seers camping here in sacred Magh Mela, as any weakling who gets their blessings automatically becomes strong and big," he added.
"The entire world is run on the strength of seers who follow austerity and are spiritual. Anyone who gets their blessings, always tastes success wherever he/she goes. Any disciple who has a wise and a strong teacher, also becomes powerful. It is because of them that even a nobody like me is getting his voice heard," he said.
Shastri said often people ask what one gets from seers. "My reply to them is that it is on the strength of their faith that safety, security and well-being of the people of the world is ensured," he added.
Earlier, the arrival of Shastri created quite a stir in the tent city with a huge crowd of pilgrims, kalpwasis and saints turning out in large numbers to welcome and see the 26-year-old Head of Bageshwar Dham temple. Shastri visited Sangam and took a dip in the holy waters of the confluence offering prayers for world peace and prosperity.
After a brief stay at the camp of Satua Baba, Shastri then headed to Meja, located around 35km from Sangam city, to attend an ongoing religious function.