Four among five Indians who died in Nepal crash hailed from Ghazipur
Jan 15, 2023 11:44 PM IST
Of the five Indians who were killed after a Yeti Airlines ATR 72 aircraft crashed in Nepal's Pokhara on Sunday morning, four hailed from Uttar Pradesh's Ghazipur district while one was said to be a resident of Bihar's Sitamarhi district
Of the five Indians who were killed after a Yeti Airlines ATR 72 aircraft crashed in Nepal's Pokhara on Sunday morning, four hailed from Uttar Pradesh's Ghazipur district while one was said to be a resident of Bihar's Sitamarhi district.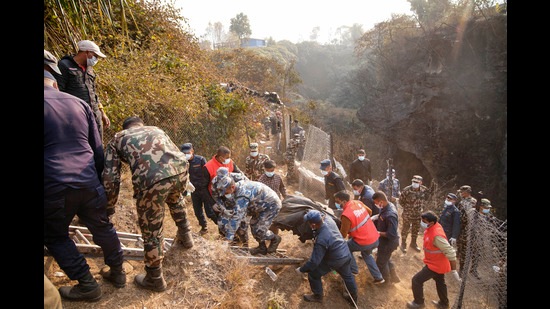 At least 68 people were confirmed dead after the aircraft carrying 72 passengers, including 4 crew members, crashed a few kilometres from its destination around 20 minutes after it took off from Kathmandu.
Uttar Pradesh chief minister Yogi Adityanath said instructions had been given to officials to coordinate with the ministry of external affairs to make arrangements to bring the mortal remains of the deceased people of Uttar Pradesh to the state.
The Ghazipur district administration on Sunday evening confirmed the death of the four and stated that the five, all friends, had gone to Nepal on January 13 on a tour.
Balram Kumar, circle officer Kasimabad police station, Ghazipur, said, "Of the five Indians, four are from Ghazipur district. They were friends and had gone to Nepal on January 13 on a holiday tour".
Sonu Jaiswal (35), Anil Kumar Rajbhar (27) and Abhishek Kushwaha were from Alawalpur village under Baresar police limits, Ghazipur. The fourth Vishal Sharma (22) was from a neighbouring Dharawa village of Ghazipur, the CO said. On getting the information, a team visited the village where the villagers confirmed their visit to Nepal.
He said they boarded the flight from Kathmandu to Pokhara on Sunday when their plane crashed merely 10 seconds before landing. Sonu's friends said it was last month when Sonu planned to go to Nepal along with his friends but due to some personal work, he couldn't leave for Nepal. All four went to Mau by car and then reached Kathmandu by bus.
The police said it was the Facebook live video which Sonu Jaiswal had shot, seconds before his death, that helped in the identification. While referring to the 1 minute 37 second video of the plane crash that is doing rounds on the internet, Kumar said the family confirmed that the person who was shooting the video was Sonu Jaiswal. Sonu was doing live video as his plane crashed minutes before landing.
District administration officials said Sonu's family members were in a state of shock. They said they never had imagined that they would see the end of Sonu's life live. The villagers too are shocked.