Kerala: 15 pellets found inside captured wild elephant's body
Jan 26, 2023 03:44 PM IST
A forest officer, who did not want to be named, said most of the pellets were not so deep suggesting they were fired from country-made or air guns
Veterinary doctors found 15 pellets inside the body of captured wild elephant named Dhoni in Kerala's Palakkad and most of them were removed, said state forest minister A K Saseendran on Thursday and promised strict action against those involved.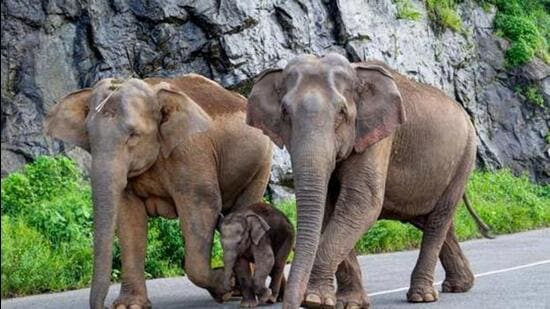 "It is sad people are taking the law into their hands and firing at straying animals using country-made guns. I know people will be angry but this is not the way," he said.
Saseendran said if wild animals are tackled like this, they will become more aggressive. "We have an effective mechanism to deal with such situations and many strayed big cats and elephants were tranquillised and captured."
A forest officer, who did not want to be named, said most of the pellets were not so deep suggesting they were fired from country-made or air guns.
Forest officials said the elephant tried to break its cage twice, forcing them to strengthen it further. The elephant was captured last Sunday.
Officials said once the animal is acquainted with new surroundings, they will start training it to scare away intruding animals.
Since January, two elephants and a tiger have been captured and sent to an animal rescue centre. In Wayanad, six tigers have been captured in a year and one of them later died.
A farmer died in a tiger attack in Wayanad on January 12. According to information activist Raju Vazakkala obtained under the Right to Information Act last week, at least 105 people died in elephant attacks in Kerala between 2018 and 2022.
An expert in scaring away intruding animals was killed in an elephant attack in Idukki on Wednesday. He went missing while chasing a herd of elephants and later his body was recovered.
Forest officials said it was a big loss to the department as he was an expert in handling elephants and used to communicate effectively in sign and body language. Video footage of Sakthivel chasing jumbos earlier went viral on social media.
"Elephants are gentle animals. They attack only if they are scared or provoked. I have a peculiar bond with them and trust them immensely," he was heard saying in a video. The state government announced ₹15 lakh compensation for his family.
In view of rising animal attacks and casualties, the government last week said it will approach the Supreme Court with a plea to control wild population on a priority basis. Saseendran has suggested that even culling of tigers can be considered. Environmentalists and activists have criticized the idea.