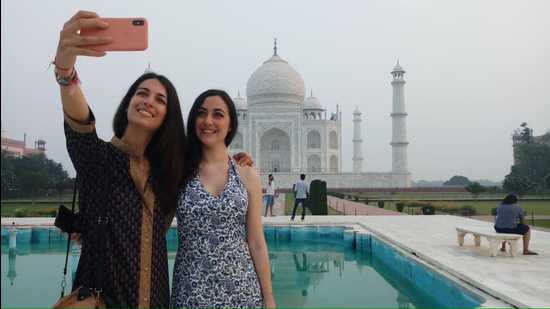 Only 650 visitors to get entry to Taj Mahal at a time
The district administration of Agra has ordered that not more than 650 tourists would be allowed entry to Taj Mahal at a time when the Archaeological Survey of India ASI)-protected monument reopens for public from Wednesday (June 16) after remaining closed for two months due to the pandemic
PUBLISHED ON JUN 15, 2021 10:42 PM IST
The district administration of Agra has ordered that not more than 650 tourists would be allowed entry to Taj Mahal at a time when the Archaeological Survey of India ASI)-protected monument reopens for public from Wednesday (June 16) after remaining closed for two months due to the pandemic. The Taj Mahal was closed on April 16 following surge in Covid -19 cases.
"We will make sure that guidelines, including that of not more than 650 tourists at a time, are followed and all standard operating procedures (SOP) are adhered to from Wednesday onwards" said ASI's superintending archaeologist (Agra circle) Vasant Swarnkar. "Covid protocols will be followed at every monument reopening for public from Wednesday. Preparations have been made in advance and sanitisation was undertaken on Tuesday," he said.
Swarnkar further said all other ASI-protected monuments, including Fatehpur Sikri, Sikandra and Agra Fort, will also reopen for public from Wednesday. "The visitors would be required to book their tickets for Taj Mahal online as the ticket windows at the monument will not be functional," he added.
The timings of Taj Mahal are from sunrise to sunset and ASI will be required to have a mechanism to comply with restriction of 650 visitors at a time. However, no such restrictions would be there at monuments other than the Taj.
The Taj Mahal was first closed on March 17 last year during the first wave of the pandemic. It reopened on September 21 last with certain restrictions. These restrictions were relaxed as Covid cases went down in Agra. During the second wave, the 17th century monument was again closed on April 16.
Close