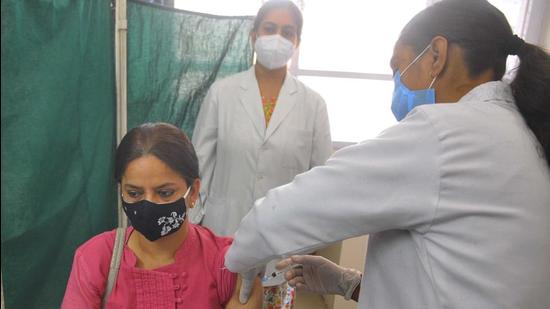 Preparation for third wave: Sero survey to begin in Chandigarh, Panchkula this week
Survey of persons below the age of 18 will be useful for Chandigarh to devise a future strategy for vaccinating that category
PUBLISHED ON JUN 16, 2021 01:35 AM IST
Preparing themselves for the anticipated third wave, health authorities in Chandigarh and Panchkula are all set to conduct a sero survey, which will help them determine the presence of Covid antibodies in people. The third survey will be different as children will also be screened.
During the war-room meeting on Tuesday, Post Graduate Institute of Medical Education and Research (PGIMER) director Dr Jagat Ram stated that sero survey of persons below the age of 18 will be useful for Chandigarh as this population has not been vaccinated and so the results of the sero survey could be useful in devising the future strategy for vaccinating this age group.
He said such a targeted survey for the paediatric group has not been conducted anywhere in the country. With fears about the third wave hitting this unvaccinated population, the study could be used by public health experts in devising a strategy to fight the virus.
"In the next two to three days, PGIMER is going to start the survey wherein around 2,700 children aged between 2 and 18 will be involved," said Dr Ram.
GMCH-32 director Dr Jasbinder Kaur said that they are preparing to screen over 1,200 adult population (18+) in the city.
Panchkula health department has already started the training of its staff, as they are going to take samples of 400 people in the next two days. Panchkula civil surgeon Dr Jasjeet Kaur said, "Sero survey is a kind of blood test, wherein blood samples are taken from randomly selected people and are tested for the presence of IgG (Immunoglobulin G) antibodies that determine a past infection due to the virus."
"It tells us how many people have been exposed to the virus and have developed immunity. The survey is important as it tells us how many people have acquired antibodies either via vaccination or by exposure to the virus," she said.
The seroprevalence in the first round, which was conducted in August, was found to be 6%. It increased to 11% in October. The experts are hoping it would be at least 50% this time.
When asked how the survey will help plan for the third wave, Dr Kaur said: "It will help us in knowing the areas where people have not developed antibodies, hence, vaccination can be focused in those areas. We want to vaccinate as many people as possible before the third wave."
Close