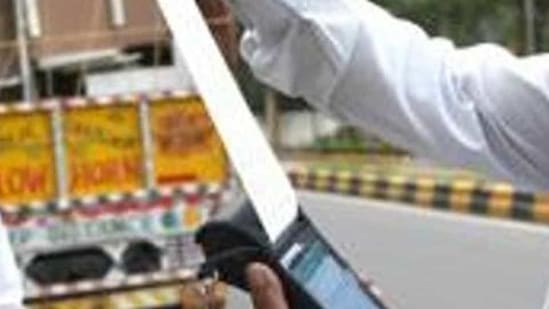 Women social media influencers fined for performing bike stunts in Ghaziabad
Two women were allegedly seen performing stunts in a video. While one was driving the bike, another was seated on her shoulders.
UPDATED ON MAR 17, 2021 12:00 AM IST
The Ghaziabad traffic police, after taking cognisance of social media posts, sent challans of ₹11,000 and ₹17,000 against two people after their vehicles were used by several young women for allegedly performing stunts on a road near Govindpuram. The cops said that the challans were sent for different traffic violations.
The police said that in the first video, two women were allegedly seen performing stunts. While one was driving a Royal Enfield bike, another was seated on her shoulders. A challan was sent to the vehicle owner for ₹11,000 for riding without a helmet, without a driving license and also for performing stunts in a public place.
"The other challan was also issued against the owner of another Royal Enfield bike. The bike was used by three women where the rider was driving dangerously without holding the steering. This bike had a Delhi registration number while the previous bike had a Ghaziabad registration number. The woman riding the bike having Ghaziabad registration number was also seen in the second video among the three women," said Ramanand Kushwaha, superintendent of police (traffic).
Also read: Sahibabad factory fire - Three workers succumb, toll rises to four
The cops said that the owner of the second bike was sent a challan for different violations, including triple riding and performing stunts.
The two women who featured in the first video were identified as Sneha Rajvanshi and Shivangi Dabas who became friends after connecting through their social media accounts and enjoy a large base of followers online.
"We want more girls to do something unique, and others should get inspiration from us. I am tall enough to control a bike easily. So, we tried with Shivangi (her friend) on my shoulders, and it became possible. Policemen came to my house and asked about the owner of the bike and I said that it was registered in name of my mother. We are not trying to wrongly influence others," said Rajvanshi, the rider of the bike having Ghaziabad registration number. She is a resident of Shalimar Garden.
Her friend Shivangi Dabas, a resident of Shatabdi Puram, said that they upload different videos on social media as it leads to an increase in their online followers and has also opened up monetisation opportunities.
"We did not perform stunts on the highway as portrayed and I was sitting on Sneha's shoulders as she has a long height. In our videos, we have also issued a disclaimer, cautioning people not to perform such acts. We are not trying to influence people to do such acts," she added.
Topics
Close