Latest from ghaziabad news
The FIR was registered after a complaint from Shivam Gehlot, the father of one of the girls, who alleged laxity in maintenance by the developers and named the two AOA office bearers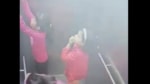 Updated on Dec 02, 2022 01:49 AM IST
Ghaziabad fared better in the first half of November this year as the average air quality index (AQI) levels have remained on the lower side compared to the last six years with the least number of "severe" days during the first thirteen days of the current month.


Published on Nov 14, 2022 08:14 PM IST
The city on Thursday recorded its first "severe" air quality day this year with an air quality index (AQI) reading of 416, as per the data by the Central Pollution Control Board (CPCB), with the primary pollutant being particulate matter (PM) 2.5.


Published on Nov 06, 2022 04:04 PM IST
Delhi's air quality index (AQI) remained in the "very poor" category for the fourth consecutive day on Thursday.


Published on Oct 27, 2022 08:58 PM IST
The police in a suo motu FIR have booked the woman as well as a local reporter from Delhi who was allegedly paid ₹5,000 to sensationalise the case.

Updated on Oct 23, 2022 04:57 AM IST