PDCA cricket: Win gives Abhinava Vidyalaya hope of qualifying for knockouts
Updated on Feb 27, 2020 04:41 PM IST
Team secure a nine-wicket win over Kline Memorial School in a Group G match.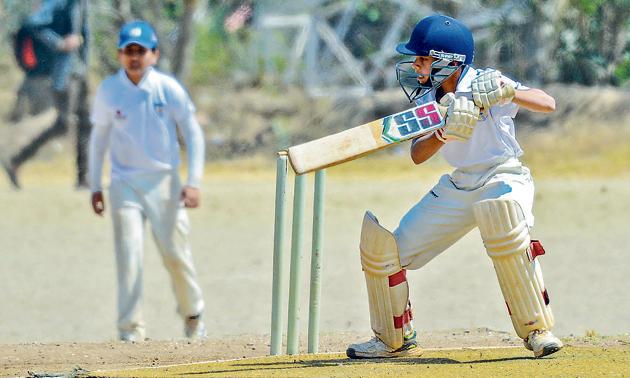 PUNE Abhinava Vidyalaya delivered a consistent performance to secure a nine-wicket win over Kline Memorial School in a Group G match of the under-14 PDCA Kohinoor Cricket tournament at Fergusson College Ground on Wednesday.
With one win and one loss, Abhinava now need a victory in their last league match to enter the knockout stage. Abhinava will be facing Sardar Dastur High School on Thursday.
Everything went into the favour of Abhinava Vidyalaya right from the start, as they did not gave any easy runs and in the batting department, Atharva Vaidya (33*) and Yash Adhikari (28*), did their job.
"We came with an improved performance over our last match. Bowlers did not gave many boundaries and we managed to restrict them to n 102," said Aadi Nene, captain of Abhinava Vidyalaya.
Batting first, Kline Memorial's openers were slow, as they kept losing wickets. Meet Mutha (28) was going steady, but a lack of support at the other end did not allow him to score freely.
"Batsman were too slow. We were not able to hit the big shots and that's why we only managed 108 runs. Taking singles and doubles is also important and we were not able to rotate strike," said Devashish Bapat, captain of Kline Memorial School.
Kline Memorial bowled 39 extras which included 27 wides, 9 byes and three no balls.
"Most of our bowlers need to practice. Our bowling line was not good and even the fielding let us down," added Bapat.
Yash Adhikari of Abhinava Vidyalaya was named man of the match as he scored 28 runs in 20 balls and also took one wicket.
After the match
"It was very easy match for us. I will still work on my batting and bowling performance."
- Yash Adhikari, Abhinava Vidyalaya
Brief scores: Kline memorial School 108 in 20 overs (Meet Mutha 28 (43b), Sarvesh Jadhav 18 (25b), Aadi Nene 2-14 lost to Abhinava Vidyalaya 109 for 1 in 13 overs (Athrava Vaidya 33 (41b), Yash Adhikari 28b (20b), Devashish Bapat 1-23)
Vibgyor Balewadi take New English Medium apart
Vibgyor High School's (Balewadi) bowlers, Pranav Chandere and Aryan Rathi tantalised the New English Medium School (Shaniwar peth) batting order, while Ritvik Rade smashed a swift half-century to help their side secure a comfortable 10-wicket victory in Group F, as they bounced back after a defeat in the U-14 Pune District Cricket Association (PDCA) cricket tournament.
New English Medium School won the toss and elected to bat on a sunny Tuesday morning at the Law College ground.
However, the complacent side threw the wickets away, simply handing Vibgyor an easy win.
Chandere and Rathi bowled three overs each, with Chandere picking up three wickets and Rathi bagging two.
Both bowlers also earned a maiden over each and only managed to give away 15 runs in total.
"They [Chandere and Rade] have been training with me for three years now and they have worked very hard.
"Ritvik also represented Maharashtra in the U-14 West Zonal meet earlier this month, where the Maharashtra team were runners-up", said Aniket Taware, head-coach of Vibgyor.
Vibgyor failed to bowl their opponents out as New English Medium School concluded their innings making 95 runs and losing 8 wickets after 20 overs.
Chasing a small target, Vibgyor wasted no time as they scored 12 runs in the first over itself.
Rade completed his 50 in style, in just 30 deliveries.
Rade did not take his foot off the pedal as he helped Vibgyor wrap the match up in the ninth over to ensure a chance for knockouts.
Personalise your news feed. Follow trending topics