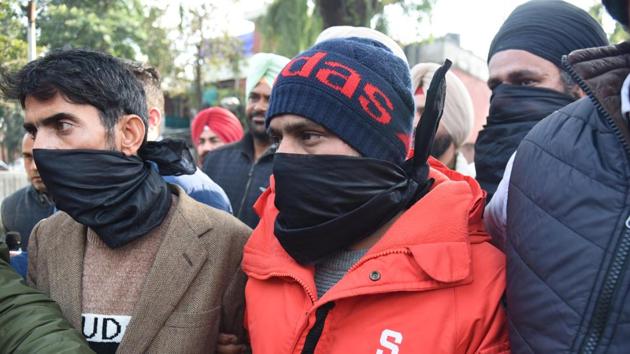 Punjab STF seizes 194kg heroin from Amritsar house, 7 held
During the raid at the house, 188.4kg heroin was recovered in the presence of an executive magistrate, said Harpreet Singh Sidhu, ADGP, STF, Punjab, at a press briefing in Amritsar.
UPDATED ON FEB 01, 2020 06:20 AM IST
Unearthing a major heroin supply racket having overseas connections, Punjab Police's Special Task Force (STF) recovered 194 kg heroin from a house in Sultanwind area of Amritsar. Police have arrested seven people, including the owner of the house and a 24-year-old woman.
The operation was carried out on the disclosure of one Sukhbir Singh alias Happy, who was arrested with 6kg heroin. The kingpin has been identified as Ankush Kapoor, who runs a cloth store on Queens Road here. He and his accomplices have been booked under Sections 21/61/85 of NDPS Act and 25/54/59 of the Arms Act at Special Task Force police station in SAS Nagar. Another FIR was registered on Thursday under Sections 21/25/27-A/29/61/85 of NDPS Act.
Other accused have been identified as Sukhwinder Singh of Naushehra Khurd village of Amritsar district, Major Singh, Tamanna Gupta, Arman Basharmal of Afghanistan and the house owner Anwar Masih.
During the raid at the house, 188.4kg heroin was recovered in the presence of an executive magistrate, said Harpreet Singh Sidhu, ADGP, STF, Punjab, at a press briefing here.
"Besides heroin, suspected 38.2kg dextromethorphan powder, 25.9kg caffeine powder and a laboratory, along with six drums of chemicals, were recovered from the house. Among those arrested is an Afghan national, Arman Basharmal of Achin, Nangarhar," Sidhu said.
"The woman was arrested from the house itself. However, her role is yet to be ascertained," said the ADGP.
He said the heroin may have been smuggled from outside the country, but it is a matter of investigation. "The processing of the heroin at the house started about a month ago," said IGP, STF, Kaustubh Sharma.
The Afghan national had travelled to India recently and was helping the kingpin in processing the contraband. A gas burner, commercial cylinders and utensils of steel and aluminium were also found at the place, police said. The accused would adulterate the heroin with other ingredients to increase its volume for more gains, police said.
Italy link of accused held by Interpol
Police said Ankush Kapoor worked in tandem with Simranjit Singh Sandhu, who stays in Italy. Currently a proclaimed offender (PO) in a case registered by Gujarat police in connection with 300kg heroin haul. He was arrested by the Interpol after a red corner notice was issued by Gurjrat Police.
Sidhu said, "We came to know of the arrest through the media and have not got any official information yet."
House owner a former SSS Board member
House owner Anwar Masih is a former member of the Subordinate Selection Service Board (SSSB) and a local SAD leader. "Today is the first day of the investigation in the case. We will investigate the role of the owner and act accordingly," police said.
Speaking to the media, Anwar said, "I was in the process of selling off the house when rented it out to Sukhwinder a month ago. I had no idea that it will be misused for such activities."
Gurpartap Singh Tikka, city president of the SAD, said, "Anwar was active in the party till last assembly elections but not now." However, Anwar associates himself with the SAD on his Facebook page. He had also shared his pictures with senior SAD leaders after the elections.
When asked about his political affiliation, he said, "Before association with any party, I am a leader of the Christian community".
Topics
Close