A "clean chit" that led to Snjay Rathod's induction in cabinet
Published on Aug 09, 2022 08:22 PM IST
Minutes before Chief Minister Eknath Shinde decided to include Sanjay Rathod as a minister at the last moment, on Tuesday, a call was made to Pune police seeking information on the status of the case registered at Wanowrie police station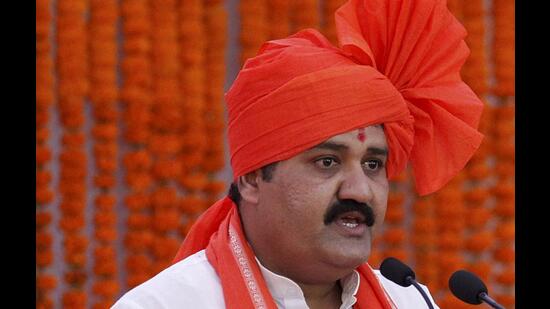 Minutes before Chief Minister Eknath Shinde decided to include Sanjay Rathod as a minister at the last moment, on Tuesday, a call was made to Pune police seeking information on the status of the case registered at Wanowrie police station. As the CM was informed about the status, decision was taken to include Rathod in the cabinet.
After the swearing-in ceremony was complete, Shinde told media that Rathod was given a clean chit in the case. "Rathod was given clean chit in the previous government's tenure. That is why he was inducted in the cabinet," CM said.
The clean chit from Pune police came on June 8, 2022, when Wanowrie police sent a letter with correction for publication in gazette that Pooja Chavan died of "head injury with injury to spine with alcohol intoxication", clearing Rathod's name in the case.
The communication, copy of which accessed by Hindustan Times, had no reference about any role of Rathod in the case.
Pooja Chavan, a 22-year-old TikTok star, died on February 8, 2021 near her rented apartment. Police suspected that she died after jumping from the first floor of Heaven Park building in Mohammadwadi area in Pune.
Following her death, Rathod was accused of his links with Chavan and her death after his purported photographs, audio and video clips with her went viral on social media.
The Police communication in June for gazette publication succeeded yet another published information in the April 21-27 edition that stated: "Head injury with injury to spine organs chemical analysis and histopathological examination"
Interestingly, forensic examination carried out last year had confirmed that voices in the audio clips that went viral were of Rathod.
Chavan who also hailed from tribal community like Rathod, was a native of Beed and was in Pune for further education. As Rathod's name was linked to her following her death, the four-time Sena MLA from Digras in Yavatmal had to resign as Forest Minister from Uddhav Thackeray government on February 28, 2021.
When asked about the status of case pertaining to her death, deputy commissioner of police Namrata Patil said, "Accidental death summary has been filed in the case in May."
BJP state deputy president Chitra Wagh, who had vociferously campaigned against Rathod demanding his resignation in 2021, termed his cabinet birth as "unfortunate" and said she will continue her fight.
Deputy CM Devendra Fadnavis however tried to wash his hands off saying, "The CM has already clarified position about Rathod's induction in cabinet. There is no need for me to say anything more."
Rathod, a Shiv Sena leader had joined Shinde camp during June 20 rebellion. Since past few months, he was hoping to return into cabinet and had even met Uddhav Thackeray when later was Chief Minister.
Case timeline
Sanjay Rathod, a four-time MLA from Digras in Yavatmal was linked to the death of a 22-year-old woman in Pune
February 8, 2021: Pooja Chavan, died after falling from the first floor of Heaven Park building in Mohammadwadi. She is from the tribal community and was in Pune for further education
Rathod was accused of links with Chavan after his purported photographs, audio and video clips with her went viral on social media
February 28, 2021: Rathod, a member of Banjara community, resigned. He was part of Uddhav Thackeray-led Shiv Sena
Initially Wanowrie police registered an accidental death report. Forensic examination confirmed the voices in the audio clips were that of Chavan and Rathod
June 8, 2022: Pune police clarified in the gazette that Chavan died due to a head and spine injury and Rathod was given a clean chit
Personalise your news feed. Follow trending topics