Bits'n'bytes: Know about startup, business news in Pune
Published on Jan 21, 2023 04:33 PM IST
LG Electronics India inaugurated a local manufacturing line of "side-by-side" refrigerators in its Ranjangaon manufacturing facility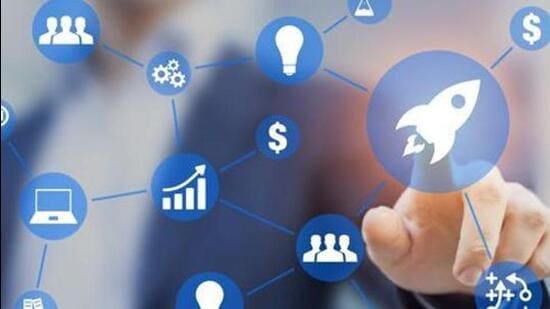 MeraTractor secures ₹5 crore in pre-Series A funding
City-based MeraTractor startup and a phygital marketplace catering to farm mechanisation products, has raised ₹5 crore in pre-Series A funding, bringing total capital raised to ₹7.25 crore post the round. The startup intends to become a new-age manufacturer that will help dealers (rural entrepreneurs in Tier 3 to Tier 6 locations) sell farm mechanisation products to small and marginal farmers. The newly raised funds will be utilised in increasing dealership network presence and enhancing technology to organise supply channels.
The funding round was led by Vibhor Sahare, CEO and co-founder of ANS Commerce and ex-CEO and co-founder of Gaadi.com, Real Time Angel Fund and Digital Futuristic Angels Network. Some of the marquee investors that participated in the funding round were Gaurav Gupta, CEO, Adani Capital; Shashank Kumar, co-founder, Dehaat; Amrendra Singh, co-founder, Dehaat, Avinash Kumar, founder, Credenc; Arvind Kumar, business head of agri division at Force Motors and ex-CEO of Trringo (M&M group company) and Lemkin India.
Sajith Abraham, co-founder, MeraTractor, said, "There has been significant work in crop cultivation, in ensuring better yield, farm-gate solutions and a push from the government to improve farmer income. However, farm mechanisation for Indian farmers, of which over 85 per cent are smallholders, has been vastly missed out because of purchase capabilities. This creates challenges starting from discovery, financing facilities, and other key milestones in the process, making it difficult for an unassuming farmer. As a solution, MeraTractor is looking at bridging the gap between a smallholder farmer and access to farm mechanisation / financial products."
Monak Gohel, co-founder, MeraTractor, said, "We believe farm power is an essential input in agriculture; hence, we are excited about the fundraise as it will help us to accelerate our journey in growing the network further by tapping into massive rural business opportunities that lie ahead."
LG Electronics India invests ₹200 crore in local manufacturing facility
Pune: LG Electronics India inaugurated a local manufacturing line of "side-by-side" refrigerators in its Ranjangaon manufacturing facility. With an investment of approximately ₹200 crore, the new facility equipped with advanced technologies and machineries, is set to manufacture the side-by-side refrigerators in addition to double-door and single-door refrigerators. The local facility is spread across 52.8 acres with an annual production capacity of 200,000 side-by-side units. The Pune facility also manufacture TVs, washing machines, ACs, and monitors.
Hong Ju Jeon- MD, LG Electronics India said, "Localisation has been a key differentiator as we have continuously developed products based on Indian insights. We will be also exporting from this facility."
FITTR announces Tanvi Malhara as brand ambassador
Pune: FITTR, a tech-enabled community-first health and fitness platform, announced the appointment of television actor and model Tanvi Malhara as its brand ambassador. Through the initiative, FITTR's agenda is to highlight the community, accountability, creation of a group of like-minded people so that they do better in life and inspire others to do the same. Tanvi said, "I have been involved with the FITTR platform for quite some time, as I hosted its FITTR Street campaign across several Indian cities last year, which achieved unparalleled success in motivating people to exercise daily."
Badve Engineering rebrands as Belrise Industries
Pune: Automotive systems and components manufacturer Badve Engineering Ltd announced that it has rebranded as Belrise Industries. Managing director Shrikant Badve said, "With the advent of green technologies and the paradigm shift towards sustainability and net carbon neutrality, our strategic agenda has evolved and we decided to turn the lens inward and wanted our branding to reflect that. The name Belrise is a coined word, bringing together the strength of our legacy and our dream for the future. 'Bel' is an ode to the past, standing for Badve Engineering Limited (BEL), and 'Rise' cues growth for all stakeholders and our collective promise to rise to the challenges of the future."
Executive director Supriya Badve said, "Belrise specialises in automotive system and component manufacturing for the 2-wheeler, 3-wheeler, 4-wheeler passenger, and commercial vehicle segments. With the evolution of EVs, Badve group is geared to offer products for the entire product ecosystem in the EV value chain."
riidl Somaiya Vidyavihar organises Demo Day
Pune: Research Innovation Incubation Design Laboratory (riidl) Somaiya Vidyavihar, selected by 'Startup India' as one of the incubators in Maharashtra, celebrated National Startup Day with a Demo Day event where more than 20 selected startups pitched directly to investors. A networking event for more than 200 startups was also organised by riddl.
As one of the incubators selected to commemorate the day, 200+ startups, 50+ investors, 20+ dignitaries, and 20+ incubators were present at the Somaiya Vidyavihar campus to celebrate the occasion. riidl Somaiya Vidyavihar is also set to host the 8th Edition of 'Maker Mela', which will facilitate more than 100 participating makers, to take their ideas to the market.
Gaurang Shetty, chief innovation catalyst, riidl Somaiya Vidyavihar, said, "We are witnessing amazing startups, who are innovating and creating some wonderful things, and solving real problems."
Bank of Mauritius, NIBM ink MoU for banking solutions
The National Institute of Bank Management (NIBM), Pune and Bank of Mauritius, Port Louis, Republic of Mauritius have executed a memorandum of understanding (MoU) on January 19. The MoU was signed by Harvesh Kumar Seegolam, governor, Bank of Mauritius and Partha Ray, director, NIBM. Through the MoU, NIBM and the Bank of Mauritius will partner to establish collaboration to provide offline/online executive education/training on topics related to credit, risk, stressed and non-performing asset management, international banking, compliance, leadership, information technology, analytics, human resources and other areas. It paves the way to undertake joint projects, or research on subject areas of common interest, which will benefit the banking industry.