Chandrakant Patil asks PMC to save water, no decision on increase in water quota
Published on Nov 25, 2022 11:54 PM IST
The move comes in the backdrop of the PMC demanding 20 TMC (thousand million cubic feet) water per annum as against the sanctioned quota of 11.5 TMC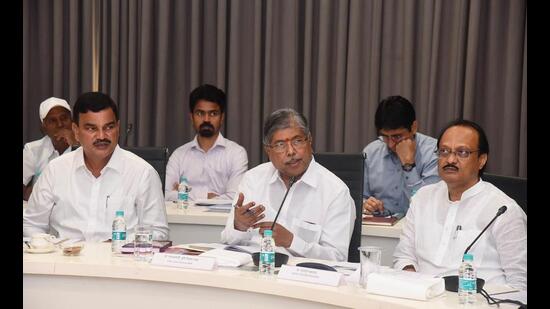 Pune district guardian minister Chandrakant Patil has instructed the Pune Municipal Corporation (PMC) to save the nearly 35% water leakage so as not to demand more water from the Khadakwasla reservoir.
The move comes in the backdrop of the PMC demanding 20 TMC (thousand million cubic feet) water per annum as against the sanctioned quota of 11.5 TMC, even as the irrigation department is opposing the provision of additional water supply to the PMC. Presently, the PMC is using 22 TMC water per annum. As both government departments have different views, the matter was discussed in the canal committee meeting on Friday helmed by Patil. Also present at the meeting were opposition leader Ajit Pawar, former minister Dattatray Bharne, MLA Rahul Kul, Bhimrao Tapkir and Chetan Tupe. During the meeting, the elected representatives from rural areas were aggressive about getting more water for agriculture and blamed the PMC for lifting more water from the dam and leaving little for agricultural purposes in the bargain. It was against this backdrop that Patil instructed the PMC to save water. Patil promised the irrigation department and PMC that he would hold a meeting in the next few days wherein he would take a call on the matter.
Pawar said, "It is a sensitive issue and emerges every year. The rural representatives oppose giving more water to the city while urban representatives ask for more water for drinking purposes. But the issue will get resolved by discussion. The PMC officials themselves accepted that the leakage is almost 35% due to old pipelines. The work on various schemes such as 24x7 water supply and JICA is going on. Once these works are completed, the city's water demand will reduce."
"Earlier, the rural quota was 22 TMC and they are getting hardly 11 TMC water from the Khadakwasla reservoir. On the other hand, the PMC quota is 11 TMC and they are lifting 20 TMC water. It is true that the population of Pune city has increased. This year, there was better rainfall so there is no need to panic. The issue can be sorted out by discussion. The guardian minister has promised to call one more meeting to sort out this issue," Pawar said.