Pune airport flyers continue to suffer due to long queues at security checks
Jan 21, 2023 09:04 PM IST
On Friday, the Spicejet Kochi flight which was scheduled at 10.35 pm was delayed by four and half hours and scheduled at 3 am on Saturday
Flyers continue to wait in long queues for security checks despite the efforts made by Pune international airport authorities to ease the pressure. With several flights getting delayed regularly, flyers have to bear the brunt and they are repeatedly venting out anger on social media.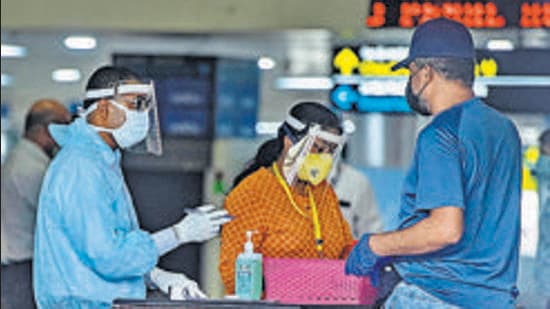 On Friday, the Spicejet Kochi flight which was scheduled at 10.35 pm was delayed by four and half hours and scheduled at 3 am on Saturday.
Ravishankar, who was on the flight, said, "Original departure was at 22:35 from Pune. Flight was rescheduled four times and finally, took off from Pune at 3am (on Saturday) and reached Kochi at 4:30 am."
Spicejet staff at the airport said, "due to operational reasons" departure was delayed.
Jayessh Gaddia, a flyer, posted a picture of the tarmac on January 19 and tweeted, "Disaster waiting to happen at Pune airport. People walk freely on the tarmac for departure and arrival. Chaos." (sic)
Amey Namjoshi, who was on Akasa Air Pune-Bengaluru flight, recently tweeted, "Sitting capacity in adequate, check-in three hours beforehand, flight delayed as usual, no food options. Security check chaotic. Now, gate 6 is full of passengers, and flights delayed by another hour mean now almost two hours. Some people are standing, ladies, kids, a few elderly, now who will exhibit chivalry and stand for another one hour." (sic)
"Problems are occasionally observed as a result of flights being scheduled consecutively. The situation has significantly improved since the last week of December and the first week of January," said an official from Pune international airport requesting anonymity.
Pune airport authorities are utilising a portion of the international security hold area for peak hours while two additional X-ray machines and two-door frame metal detectors have been installed to manage the rush.
The airport authorities have also advised airlines to deploy additional staff to help flyers who are facing inconveniences. The Central Industrial Security Force personnel has increased from 350 to 493.
On Saturday, 75 flights were scheduled to take off from Pune.
On Friday, Pune airport recorded the arrival of 13,815 passengers on 91 flights and the departure of 14,552 flyers in 91 aircraft.