Rooftop solar setups gaining popularity
Jan 28, 2023 10:51 PM IST
MSEDCL officials informed that in the previous financial year 2021-22, the rooftop solar scheme in the state crossed the mark of 1000 MW in terms of solar power generation
Pune: The rooftop solar scheme, which involves installing solar panels on house roofs and allows consumers to sell excess generated power to Maharashtra State Electricity Distribution Company Limited (MSEDCL), is gaining popularity. According to Vijay Singhal, chairman and managing director of MSEDCL, the total number of people using rooftop solar panels in the state has gone up to 76,808 and a total power generation capacity of 1,359 MW has been achieved.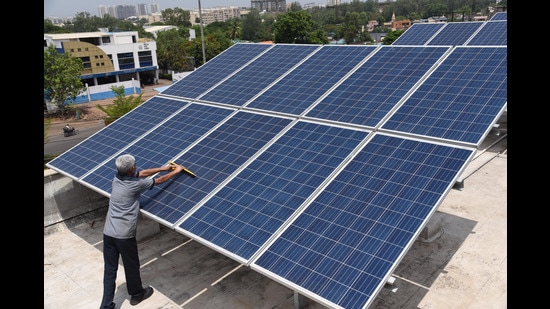 "Five years ago, in the fiscal year 2016-17, only 1,074 consumers generated 20 MW of solar power through the rooftop solar scheme. In the last five years, the total number of customers has spiked dramatically to 76,808, while solar power generation capacity has increased to 1,359 MW," Singhal said.
MSEDCL officials informed that in the previous financial year 2021-22, the rooftop solar scheme in the state crossed the mark of 1000 MW in terms of solar power generation. Then in the current financial year from the month of April, it can be seen that an increasing number of consumers are preferring rooftop solar setups, they added. In the last 10 months, the number of customers installing solar power generation sets at home has increased by 20,722 while the capacity of this type of solar power generation has increased by 331 MW, informed officials.
Customers can effectively reduce their regular electricity bills by using the electricity generated by solar energy. If a person's solar panels produce more electricity than he consumes, it is sent to the MSEDCL grid, and the company credits the person's electricity bill.
"This sometimes results in customers having no electricity bills. Solar panels pay for themselves in four to five years, but they last for twenty-five years. This has made them popular," officials explained.
Customers who instal solar panels with capacities ranging from 3 KW to 10 KW receive a 20 per cent subsidy.