Stray pigs on Pune roads create garbage menace
Published on Aug 09, 2022 01:03 AM IST
The civic body has accepted that there is rise in breeding of stray pigs, particulary near spots where residents throw garbage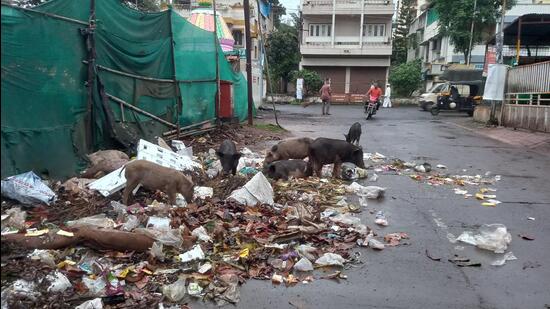 There has been a rise in complaints against uncontrolled breeding of stray pigs in the city, despite this, there is no action from Pune Municipal Corporation. At least 300 garbage chronic spots are developed across the city and the pigs are found around these areas, causing an eyesore.
Nilesh Joshi, a resident of Padmavati said, "The pig menace has increased in the last couple of months. They roam the streets spreading garbage every where and the civic body has done nothing."
The civic body has accepted that there is rise in breeding of stray pigs, particulary near spots where residents throw garbage.
PMC solid waste management department head Asha Raut said, "We are trying to clean spots where residents often throw garbage. I will write to all the regional ward officers and ensure that action is taken. The pig and dog menace issue is handled by the health department, I will also write to them seeking action."
Pramila Ratnaparkhi residing near Panchwati society from Chavannagar said, "There are at least five to six spots around us where citizens throw garbage, like the open space in front of Panchawati, Kalubai Temple, Vinkar Hall and in front of Padmavati. Where there is garbage, there are pigs and dogs. We cannot walk around the area due to the smell. It is an eyesore."
Personalise your news feed. Follow trending topics