Your space: Reopen schools in Covid-safe areas
What steps should the government take to ensure parents are not financially strained; students get quality education and private schools stay afloat. Readers share their views...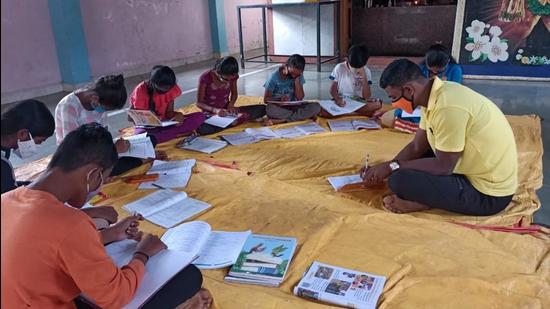 Updated on Jul 18, 2021 04:36 PM IST
The Maharashtra government has barred private schools from hiking fees for the academic year 2021-22. A recent survey shows majority of parents prefer offline classes if Covid norms are followed. What steps should the government take to ensure parents are not financially strained; students get quality education and private schools stay afloat.
No clarity from school administration
There is no clarity from school administration. They are still charging miscellaneous fees like meal and transport charges. It is unclear what has been waived and what is still there. When we reach out to schools, they say it's only a relaxation in time and not the fee amount. The state government should intervene and instruct schools to charge only tuition fee. We are ready to send children to schools provided Covid norms are in place. Priorities for education-focused efforts after the coronavirus pandemic should include ensuring that school infrastructure and facilities are safe, and measures are in place to prevent the spread of disease in the event of a future outbreak.
Jyoti Shinde
Fee issue should be addressed on priority
We have to accept the new normal life and protect our children from the deadly virus. The elders have to venture out for a living. Parents, government and school administration should have to find a way to restart schools and free children from the lockdown. We need to find an amicable solution instead of blaming each other. The fee issue should be addressed on priority and other aspects in a phase-wise manner.
Mayur Patil
Reopen schools after proper planning
Many kids are bored of online classes and want to rejoin schools. In the new normal, we have to find some solution. All are mentally prepared to face the situation. The government should frame SOPs (standard operating procedure) for school education. As lockdowns ease and schools start to reopen in some places across our region, it's as good a time as any to take stock and look at the likely future of education. School reopening plans should account for underlying risk factors, including student attendance rates, percentage of economically disadvantaged students, student-teacher ratio, average years of teacher experience, and the presence of vulnerable groups, including girls.
Poonam Gaikwad
Paradigm shift in school education
To succeed in life and at work, they will need all the social, emotional and academic support via rich and flexible learning experiences that will differ vastly from schooldays of their parents. Before Covid-19, the focus has been heavily weighted on classroom experience. I think we will see a shift where schools will create a foundation of inclusive, flexible, data-driven buildings and spaces that will enable students to learn beyond those walls.
Omer Shah
Evolve new ways of teaching
There are teachers who teach in the traditional way. And there are great teachers who are also model learners. They learn with the kids. They don't feel like they have to know everything, but they have to show what great learning looks like. Overall, it means inspiring students onto a path of lifelong self-learning. And that can include learning about new technology, which they can learn with the kids. If they can explore new ways of doing things, they can all grow together.
Sandy Patole
Education has gone beyond classroom
In many ways, the classroom has become a physical barrier and just a way of holding onto the past. We are no longer bound by limitations that used to require us to have 30 kids in a classroom with one teacher. Now we can rethink that model. It can be multiple teachers with multiple kids. They can be places where kids can move around more flexibly. They don't have to do the same thing at the same time in the same way. Schools have been exploring this for some time – technology changes the success rate.
Sahir Sayyad
Plan dynamic mode of education
Water and hygiene facilities will be a crucial part of schools reopening safely. Administrators should look at opportunities to improve hygiene measures, including handwashing, respiratory etiquette (coughing and sneezing into the elbow), physical distancing measures, cleaning procedures for facilities and safe food preparation practices. Administrative staff and teachers should also be trained on physical distancing and school hygiene practices. The ability of teachers to keep adapting and innovating will be crucial. What we want educators to do is not be bound by the structure of a 40-minute lecture, classroom dynamic, or assessment that's connected to a curriculum, but recognize their goal and mission to expand upon every student's potential.
Shrikant Hingane
Reopen schools under strict safety norms
Considering that many countries are starting to slowly lift restrictions on activities, the long-term effects of keeping schools open on community transmission are yet to be evaluated. Some modelling studies suggest that school reopening might have a minor effect on wider transmission in the community, but this is not well understood. Further studies are underway on the role of children in transmission in and outside of educational settings. Government should promote and put in place respiratory and hand hygiene, physical distancing measures and use of masks in transportation such as school buses, in accordance with local policy. Government or local authority should have to provide tips for how to safely commute to and from school, including for public transportation. Organise only one child per seat and ensure physical distancing of at least 1 metre between passengers in school buses, if possible. This may require more school buses per school and if possible and safe, keep the windows of the buses, vans, and other vehicles open.
Reshma Gore
Restart schools on trial basis
In countries or areas where there is intense community transmission of Covid-19 and in settings where physical distancing cannot be achieved, school administration should have to report, monitor, rapid testing and tracing of suspected cases. Most of the parents and students don't want remote teaching. Children are desperate to go to school. Even parents are ready to send their children to schools. Therefore, the government should have to make a firm decision and restart school at least a few days a week on a trial basis. School administration should have to fix timetables and call each class on alternate days.
Sanjay Sharma
Prepare flexible mode of school education
It's crucial that schools plan ahead and look at what additional measures they can put in place to help ensure students, teachers and other staff are safe when they return and communities are confident in sending their students back to school. Going back to school will likely look a little different from what you and your child were used to before. It's possible that schools may reopen for a period of time and then a decision may be made to close them again temporarily, depending on the local context. Because of the evolving situation, authorities will need to be flexible and ready to adapt to help keep every child safe.
Shrikant Dalwale
Strengthen future learning trends
Schools at the centre of a community ecosystem of learning and support is an idea whose time has come, and some of the emerging practices amid Covid-19, such as empowering parents to support their children's education, should be sustained when the pandemic subsides. School administration should have to engage students in accelerated learning interventions to reverse crisis-related learning loss and strengthen future learning trends. They should have to engage teachers in training and coaching so they can help students catch up, and ensure that school environments are safe and protected and engage parents by capitalising on their current involvement in remote learning to improve future outcomes.
Ashish Menon
Close Story