The stubble trouble: Gasping for air as smog reigns
Updated on Nov 06, 2015 09:20 AM IST
Jasveer Singh, a 52-year-old former wrestler, is a familiar face in villages around Phillaur in Jalandhar district. But for two months every year, he not only loses his breath but also his identity.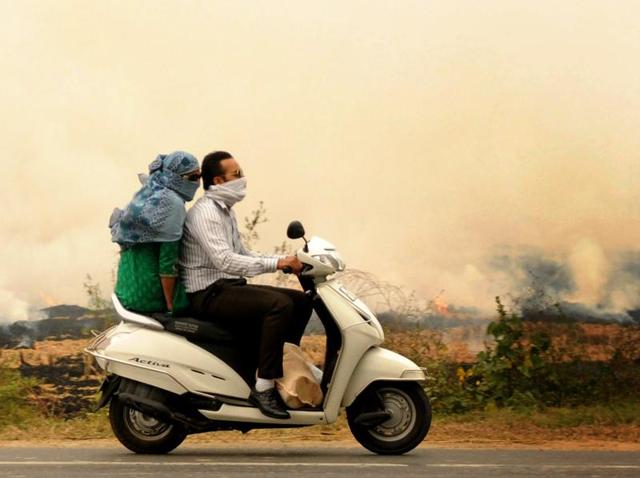 Hindustan Times |
, Chandigarh
Vishav Bharti
Jasveer Singh, a 52-year-old former wrestler, is a familiar face in villages around Phillaur in Jalandhar district. But for two months every year, he not only loses his breath but also his identity.
With smoke emanating from blazes in paddy fields across Punjab and Haryana, the one-time grappler finds it hard to breathe. He prefers to stay indoors, keeping his face covered all the time. No wonder nobody recognises him. Jasveer is suffering from chronic obstructive pulmonary disease (COPD), a lung disease that makes it hard to breathe. "I generally avoid going out. In case I have to, I cover my face because the weather during these two months (October and November) does not suit me," he says.
The reason: a sharp deterioration in air quality and smog – a mixture of smoke and fog – that engulfs the northern region. His doctor, Dr SK Jindal, former head, pulmonary medicine at Post Graduate Institute of Medical Education and Research (PGIMER), Chandigarh, says there are a large number of patients suffering from asthma and COPD who die for want of breath during these two months.
Jasveer feels the pain of the uncontrolled burning of paddy residue. "These days are so bad that I cannot even enjoy Diwali with my family," he says. The ailment has changed his life. After giving up wrestling some years ago, he turned to coaching, but has to also stay away from akharas now for these two months.
HARROWING ORDEAL
This isn't just his story alone. There are many others for whom breathing becomes an ordeal during this period when the air quality drops. The condition of 66-year-old Geeta Kapoor, a retired government teacher from Kharar, is worse. Last week, she found it difficult to even breathe and had to be rushed to a private super-specialty hospital in SAS Nagar. As her inhaler became ineffective, she was put on nebuliser.
Geeta cannot even walk a few steps because she starts losing her breath. Though she has been suffering from asthma for the past 10 years, these few weeks are the worst part of the year for her. The stubble fires and smog have confined her to her house. According to PGIMER doctors, the number of patients suffering from COPD and asthma trebles in October and November every year. The institute runs a chest clinic twice a week where they get 15 to 20 new patients of these two diseases each time. Children and elderly are the worst sufferers.
Though no separate record is maintained of patients hospitalised due to pollution caused by stubble burning, doctors say the numbers have been fluctuating in the past one-and-a-half decades. "There is no separate data available, but we do get patients with asthmatic and bronchitis problems aggravated by burning of paddy straw and the resultant air pollution," says Dr Jai Singh, civil surgeon, Amritsar, advocating strict action against cultivators for violating the ban.
In Haryana also, the number of patients visiting hospitals with allergic bronchitis, breathlessness, throat infections, eye infections and other pollution-related problems sees a jump after paddy and wheat harvesting. Doctors blame the decline in air quality for the increasing severity of respiration-related health problems. "Smog affects people having a medical history of respiratory disorder. Their number in OPDs (out-patient departments) normally increases by 20 to 30% during October-November," according to a doctor at Kalpana Chawla Government Medical College, Karnal.
"Though there are not many community-based studies on the quantum of harm paddy stubble burning is causing, there is no doubt that Punjab and Haryana have more cases as compared to other states. The government must rope in medical experts to ascertain the impact of stubble burning. I am sure the results will be astonishing," says Dr Jindal.
CHILDREN RUN HIGHEST RISK
A study on the effects of agriculture crop residue burning (ACRB) on children and youngsters, conducted by Thapar University, Patiala; and National Physical Laboratory, New Delhi; in 2010 indicated that ACRB is a serious environmental health hazard and children are more sensitive to air pollution as it adversely influences their pulmonary function tests (PFTs). The study, carried out at Sidhuwal village of Patiala, evaluated variations in PFTs due to crop residue burning on children between 10 and 13 years and young people between 20 and 35 years. The effects of exposure to smoke due to burning of paddy and wheat stubble on pulmonary functions were evaluated.
GOVT'S SLUGGISH IN RESPONSE
Besides failing to douse the farm fires and take any firm action to tackle the problem of rising air pollution, the governments of the two states, whose farmers have aggravated the crisis by burning crop residue twice a year, are still to wake up to the health problems of people with respiratory disorders. When asked whether they have any plan to take up the matter with various departments, the answer of top health officials of Punjab was in the negative. "No doubt it is a matter of concern, but the health department cannot do much. We can only sensitise people or ask other departments concerned to control the problem," is all health secretary Hussan Lal, had to say. The Haryana health authorities, too, have not shown any significant initiative.
Choked by smokescreen
How does smog affect breathing?
Smog can cause or aggravate health problems such as breathlessness, asthma, chronic bronchitis and other respiratory disorders, besides eye irritation and reduced resistance to cold and lung infections. "While inhaling, fog, smog or smoke components enter our lungs. It creates hypersensitivity in those already suffering from asthma bronchospasm, making it even more difficult for them to breathe," says Dr Deepak Bhasin, senior consultant, pulmonary medicine and critical care, Max Super Specialty Hospital, SAS Nagar.
How alarming are benzene levels?
In 2011, Vinayak Sinha and his team first observed a jump in levels of benzene at Central Analytical Facility, Indian Institute of Science Education and Research (IISER), Mohali. Benzene is a well-established cause of cancer in humans.
"There was no previous study of the impact of paddy residue burning. So, we decided to investigate the rise in benzene levels during this time of the year," said the assistant professor in the department of earth and environmental sciences.
"It came out that the benzene level at the source was around 40 ppb (parts per billion), 80 times of what it was at Mohali (0.5 ppb). So, farmers and the rural population living near the source are exposed to a much higher level of benzene," he said. Sinha's team made over 8 lakh measurements over three years — 2012, 2013 and 2014. The results were equally shocking. They detected a rise in benzene level by over 92%, an increase in carbon monoxide level by over 200% and in oxides of nitrogen by over 114%.
Chronic obstructive pulmonary disease (COPD) in Punjab
COPD mainly includes two diseases: bronchitis, a respiratory ailment in which the mucus membrane in the lungs' bronchial passages becomes inflamed; and emphysema, in which air sacs in the lungs get damaged gradually, making you progressively short of breath.
Year Bronchitis cases (in lakhs) Lung disease cases
2010 2 9,976
2011 1.9 10,448
2012 1.5 8,679
2013 1.6 13,059
2014 1.5 10,895
With inputs from Bhartesh Singh Thakur, Chandigarh; Usmeet Kaur, Amritsar; and Vishal Joshi, Karnal
Tomorrow: Why farmers resort to stubble burning
Personalise your news feed. Follow trending topics