TMC 'purifies' panchayats with Ganga water after wresting them from the Left, BJP without contest
Trinamool leaders say that they were making amends for the 'defilement' of panchayat offices. BJP, CPI(M) slam gimmick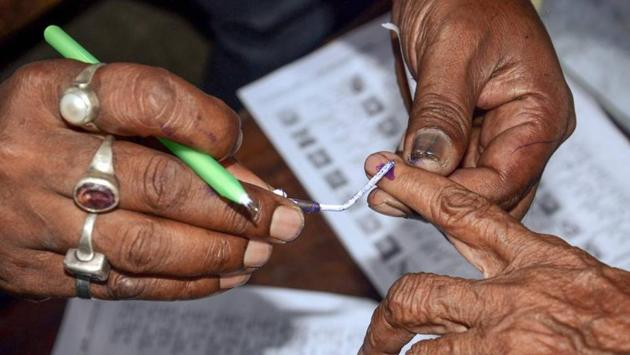 Published on Sep 20, 2018 04:32 PM IST
After bombs, bullets and bloodshed, Ganga water entered the unending drama on the Bengal panchayat theatre.
After winning over 20,000 uncontested local body seats in West Bengal, ruling Trinamool Congress leaders 'purified' the offices of two gram panchayats that they wrested from the Communist Party of India (Marxist) and the Bharatiya Janata Party with water of the river Ganga.
On September 19, before forming the board at Bikna gram panchayat in Bankura district that the ruling party wrested from the CPI(M), Trinamool Congress workers washed the office of gram panchayat with Ganga water. CPI(M) was in control of Bikna panchayat for four decades.
On September 12, Trinamool leaders had performed the same act at Kundala gram panchayat in the same district. It was held by the BJP for 20 years. Before the Trinamool men stepped in these buildings, a Brahmin washed the building, table, chairs and chanted prayers at Bikna.
Justifying the act, Trinamool Congress leaders said they were 'purifying' a board that the Left party had defiled with corrupt practices for 40 years.
"The CPI(M) leaders had engaged in a lot of corruption and illegalities. So we had to restore its purity," said Baren Singh, a Trinamool Congress leader of Bikna.
The opposition did not spare the opportunity to lash out at the ruling party.
"We were not allowed to file nominations in the panchayat, and Trinamool bagged 13 seats out of 15 without any contest. They muscled their way in, were scared to take the verdict of the people and are now indulging in silly practices," said Ajit Pati, Bankura district secretary of CPI(M). The two seats that were contested were won by the BJP.
Out of the 16 seats in Kundala gram panchayat, Trinamool won 13 without any contest and two by contesting. BJP secured one.
"On the day they were purifying an office (September 19), their workers were vandalising our office at Supur in the same district. Before purifying any office, they must purify themselves," said Subhash Sarkar, BJP leader from the district.
"Trinamool Congress will now commit crimes and defile the panchayat (Kundala)," said Dudhkumar Mandal, BJP leader of the area.
Arup Khan, president of district Trinamool Congress, said there was nothing wrong in what they did. "The Left party whose workers killed so many people down the years, have no right to say all these. There is nothing wrong in washing the office with Ganga water."
Close Story