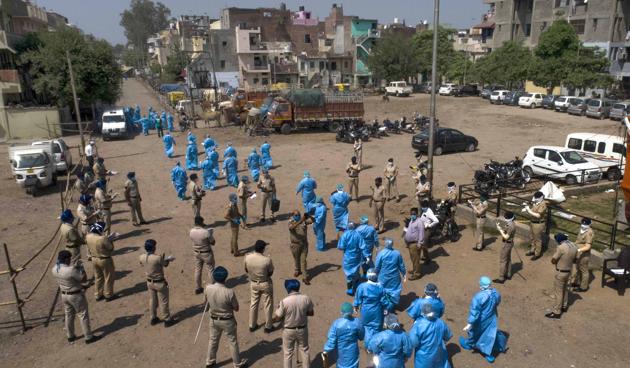 Chandigarh touches 200 mark in 62 days
However, in good news, as many as 37 patients – the highest in a single day — were discharged, taking the total number of recoveries to 91 and bringing the number of active cases down to 106
Hindustan Times, Chandigarh | By Amanjeet Singh Salyal
, Chandigarh
UPDATED ON MAY 20, 2020 12:35 AM IST
In just over two months, the tally of coronavirus disease cases has touched the 200 mark in Chandigarh, with three more people testing positive on Tuesday.
However, in good news, as many as 37 patients – the highest in a single day — were discharged, taking the total number of recoveries to 91 and bringing the number of active cases down to 106.
Among the new cases, two are from Bapu Dham Colony — two women aged 28 and 55 — while one is from Dhanas.
The 34-year-old man from the Rehabilitation Colony in Dhanas had arrived from Delhi on May 17 and had gone straight to Government Multi Specialty Hospital, Sector 16, where he was sampled as he was symptomatic.
The first case had surfaced in Chandigarh on March 18, when a 23-year-old woman, who flew back from England, tested positive following which restrictions on movement and business activities were imposed in the city. Even though restrictions have been relaxed in the city, fresh cases of infection — majorly from the Bapu Dham Colony containment zone — continue to come to the fore.
Out of around 600 people sampled in Bapu Dham Colony, Sector 26, as many as 129 have been found infected. The chain was triggered by a resident who works as an operation theatre attendant at Government Medical College and Hospital, Sector 32, after he was tested positive on April 24. The colony now accounts for 64.5% of the total cases in Chandigarh.
Lagging behind on the testing, till April 24, the UT had sampled only 638 persons with the strict policy to test patients only with strong symptoms. However, after the Bapu Dham Colony outbreak, 2,393 suspected persons have been tested out of which 7.18% were found positive.
With the testing numbers going up, fresh cases came to fore with total test positivity rate of Chandigarh standing at double the number of national average rate at one point of time. It reached its peak on May 11 with 8.3% of total persons tested turning positive. On Tuesday, test positivity rate stands at around 6.5% against 4.2% in India.
The recovery rate for persons who have been tested negative after contracting infection stands at 29%, while after implementing the new discharge policy on Tuesday (which allows discharging asymptomatic and mild symptoms patients for home isolation), 34 patients have been discharged from the ayurvedic college in Sector 46.
Three patients were also discharged from the PGIMER after two negative tests, including the GMCH-32 staffer from Bapu Dham Colony, who was first to test positive in the locality.
With this the recovery rate has shot up to 45.5%.
Dr BS Chavan, director principal, GMCH, said in strict implementation of Government of India's new discharge policy, 34 patients have been discharged from the ayurvedic college in Sector 46 after 10 days of hospitalisation and have been kept in the post-discharge care centre in Sood Dharamshala.
"Containing the situation in Bapu Dham Colony requires focus, not only in terms of screening, but testing as well as other methods available which are not as 'sacred' as testing but also can give effective results. Some of them which can be employed can be checking the oxygen saturation level of the persons within the containment zone majorly the high risk citizens," a senior epidemiologist at the PGIMER, on the request of anonymity, said.
The expert added that screening the whole population will not yield better results until persons with symptoms are tested.
UT health secretary Arun Gupta said testing is being done strictly as per the protocol defined by the central government. "Testing numbers have increased gradually. More than 3,000 persons. At one point of time, doubling rate was 12 days, which is around 85 days now," he said.
Close