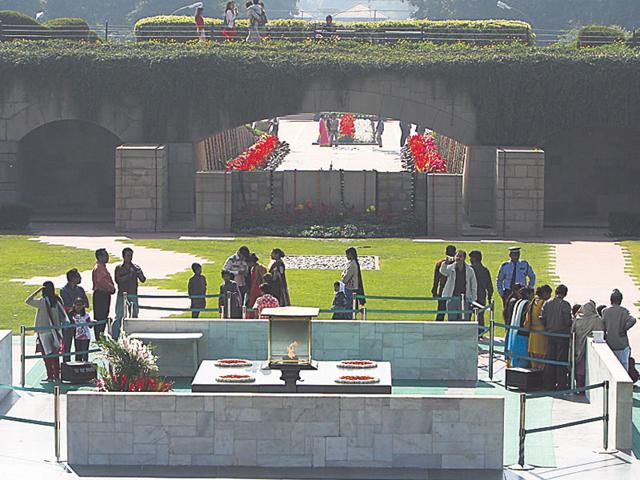 Doing great damage long after we are dead
What does it matter what happens to your corpse?'
UPDATED ON APR 19, 2015 11:18 PM IST
What does it matter what happens to your corpse?'
"It does matter…Ought not I or anyone have some say, some rights, over that which till a moment ago, was the whole of 'me'?"
The conversation was on the two principal methods of 'disposal' that prevail in India — cremation and burial. And, within the first method, about the 'natural fire' way vis-à-vis the one that uses electric power. And then it turned to what among the various modes is ecologically less harmful.
"Logs of wood somehow feel better…"
"Feel? You will never feel anything!"
"I know…you know… I mean…"
"Mean what? More aesthetic like, right? But think of all the wood being used up…Are you worth so much precious wood? That quantity of wood would probably be a month's fuel for a family. And all that stinking smoke. Those who live near cremation grounds are miserable… Ugh."
"It isn't as if electricity is plentiful…God knows how much bijli it takes up to burn one corpse. And do you think that fiery chamber emits no smoke? It does, only you don't see it billowing up."
"Either way, burning is lighter on the atmosphere than burying, which takes up land forever".
"I am not sure. The body disintegrates in the ground…and after some years there would be nothing there…"
"So you think...what about all those coffins…huge things…like vaults…with metal on them…no worm is going to eat those…Besides most graves are marked…You can't touch that land. It is sealed up forever."
Bizarre things happen to people's bodies after they have lost control over them. The helplessness of the dead about their remains is pathetic.
Satyajit Ray, then a student in Santiniketan, was able to gain entry in Jorasanko, the Tagore home in Kolkata where the great man was born and had just breathed his last on August 7,1941. Andrew Robinson in his biography of Ray (The Inner Eye) says Ray saw the painter Nandalal Bose decorating the body with white flowers, something we can assume Tagore would not have minded. But then, Robinson tells us, as Tagore's body was lifted on pall-bearers' shoulders, Ray saw people pull strands of hair from the great man's beard.
Had this detail not been printed in a book, I would not have wanted to recount it. There is something inexpressibly sad about it.
Seven years later, on January 31, 1948, Gandhi was given a state funeral with the arrangements being supervised by governor general Lord Mountbatten. The Mahatma was lucky in one thing. His faithful secretary Pyarelal records: 'A suggestion was made for embalming Gandhiji's body and keeping it in state at least for a period…I felt it to be my sacred duty to intervene… 'Your Excellency', I said addressing Lord Mountbatten, '…Gandhiji very strongly disapproved of the practice of embalming and he gave me specific standing instructions that his body should be cremated wherever his death occurred'. 'His wishes shall be respected', Lord Mountbatten said.' But that was only as far as the embalming went. The vehicle chosen to carry the body from Birla House to the cremation ground was — a gun carriage. One cannot blame an admiral of the fleet from thinking of such a form of transport but a gun carriage? Something like a truck could surely have been rigged up for the last journey of the Mahatma. More incongruities followed. 'Fifteen maunds of sandalwood,' Pyarelal records, 'four maunds of ghee, two maunds of incense, one maund of coconut and fifteen seers of camphor' were used for the obsequies of the most austere man on the Indian scene. And on what was just a spot by the Yamuna rose 'Rajghat' — a most ironic name for the site of the cremation of one who had been an opponent of the Raj, which had ended and had not identified with the Raj that had come in its place.
We have no control over what happens to that which was our 'habiliment and home'.
For those who burn, there is also the matter of ashes. The practice of 'immersing' the ashes in rivers is a hinterland practice. Those who live by the sea can put them directly into the sea. Those that live 'up-country' do not have that access to the ocean. They have only the river. From necessity has grown the practice to put the ashes of human bodies into rivers. Let us be aware that we drink the water of the same rivers.
We as a people have to ponder this: We know our population size, our land size. We know the death rate and so we can calculate how many die, roughly, every day, every month, every year. Has someone, anyone, done a calculation of how much wood we need to cremate that number, how much bijli? Do we know how much land will be needed to give those Hindus, Muslims and Christians who bury, not burn their dead? We know the state of our rivers. Can they take this daily instilling of ashes without some reaction? Or is this too hot — or deep — a subject to be thought of?
Some people do leave instructions, oral or written, about how they would like their remains to be disposed of. But most do not. They leave it to tradition, to the good sense of their successors. And in any case one's own death is not a subject that is discussed. 'Family' is generally reluctant to raise the subject with elders. But we should, I believe, leave nothing to 'just happen'.
Those many from the VVIP category should in all seriousness make it clear that they do not want their funerals and last rites to be an expensive affair. Their next of kin and their followers should also state clearly that they do not want memorials to be raised on the sites of their ancestor's or leader's cremation or burial. We are a densely populated nation. How many ghats, sthalas and vanas can we afford, financially, ecologically?
And those many more of us who are not VVIPs should also plan things out. If it is to be the burning way, how simple can it be made? If the burial way, how is that to be made ecologically right and 'light'? Our lifestyles have been as ecologically unintelligent as they have been. Perhaps our death-styles can be better.
Gopalkrishna Gandhi is distinguished professor in history and politics, Ashoka University
The views expressed by the author are personal
Close