Farewell Citizen Kalam: He symbolised a syncretic India
Updated on Aug 01, 2015 02:12 AM IST
Kalam was beloved because he symbolised a syncretic India. Fittingly, the last image of his burial has a sea of caps all around: The military caps, the taqiyah, Gandhi topis, a keffiyah, and even plain handkerchiefs. For one moment, a fractious nation was united in grief. Perhaps we were mourning for what we once were and might never be again.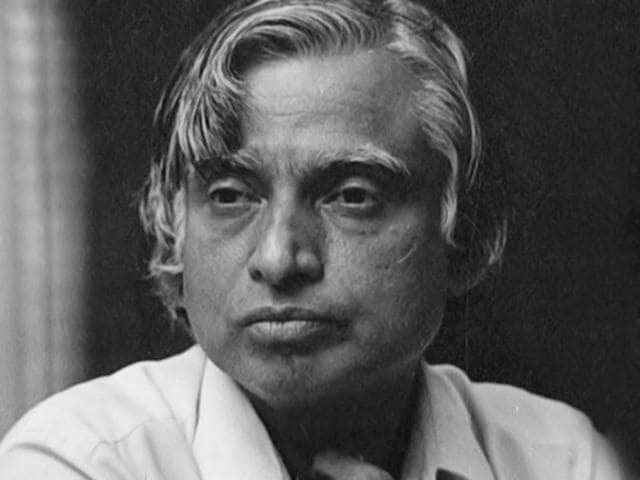 Since we tend to deify the heroes that we do have in hero-scarce India, it's easy to forget that APJ Abdul Kalam became president not because he was the best candidate for the job but because he was the least objectionable.
In 2002, President KR Narayanan's term was up. The Congress suggested a second term but the BJP-led NDA, then in power, rejected the idea on the plea that in the past 20 years no president had been given a second term.
Maharashtra governor PC Alexander was keen and the BJP was prepared to back him. But the Congress said no because it believed he had switched sides.

There was a tradition of elevating vice-presidents, so why not sitting vice-president Krishan Kant? But Kant was rejected by a section of the BJP that feared he would be pro-Congress.
It was then that Mulayam Singh Yadav or Chandrababu Naidu -- both take credit -- came up with a compromise candidate, a man who had just retired from government service and was, moreover, a Bharat Ratna. And that is how Kalam became India's 11th president. At the time of his death, Kalam had demitted office. But he was still in demand on the speaker circuit. His books remained best-sellers -- half of Amazon India's current top 10 are written by him.
And thousands of ordinary, grief-stricken people lined up for hours to pay tribute to India's first citizen.
The cliché 'people's president' does Kalam a disservice because he refused to conform to lazy stereotypes. How would you define him? Missile scientist or inspirational writer? Practising Muslim or yoga practitioner? Yes, he had risen from humble origins but he refused to fetishise either his religion or his poverty as so many politicians tend to do.
Much of Kalam's popularity stemmed from the fact that he was emphatically not a politician. With all humility, he was essentially a teacher who was his best self interacting with children. Yet he was not afraid of doing the right thing. His first test came soon after his swearing-in.
Following a carnage at Godhra in which kar sevaks returning from Ayodhya were burnt alive, communal riots had broken out in Gujarat and Muslim citizens had been slaughtered. Kalam said he would go. Prime Minister Atal Bihari Vajpayee was unhappy. What if there were protests? What if chief minister Narendra Modi snubbed him?
Nothing of the sort happened. Kalam was received by Modi, visited relief camps and riot-hit areas and, with the chief minister by his side, accepted petitions and complaints. "I was able to suggest to him that action be taken as quickly as possible," Kalam later wrote in 'Turning Point'.

This was Kalam who epitomised a characteristic so increasingly hard to find in public life: Decency.
His aphorisms are far from brilliant ('You have to dream before your dreams become true', 'have the courage to think differently', etc) and yet they touched a chord because they were devoid of artifice. His message to a growing demographic of middle-class Indians, speaking about their concerns -- corruption, morality, excellence, hard work, aspiration, youth -- appealed to an India that needed to believe in possibility.
But ultimately, I believe, Kalam was beloved because he symbolised a syncretic India that is becoming increasingly endangered: A devout Muslim who, as pointed out by journalist Gayatri Jayaraman, was influenced by a Hindu maths teacher and a Christian reverend. He was, in that sense, an embodiment of the best of who we are.
Fittingly, the last image we have of Kalam is at his burial. His body is about to be lowered and there is a sea of caps all around: The military caps of men in uniform, the taqiyah or skull cap, Gandhi topis, a keffiyah, and even just plain handkerchiefs.
For one brief moment, a fractious nation torn by ideology and beset with growing intolerance was united in grief. Perhaps we were mourning for what we once were and might never be again.
(The views expressed are personal)
Close Story
Personalise your news feed. Follow trending topics