Indian prenup would probably limit itself to alimony, child custody
Love pampers, it kisses your nape, cleans your ears with earbuds; but marriage informs you of all your flaws.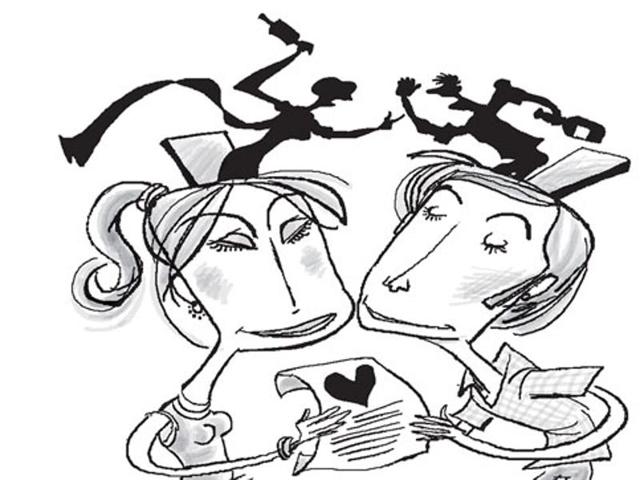 Updated on Oct 01, 2015 01:35 PM IST
Love pampers, it kisses your nape, cleans your ears with earbuds; but marriage informs you of all your flaws. Those silences, deep and ordained, and filled with meaning. Only the married can feel like delinquents in their own home. But they are a fundamental unit of the tribe. Mr and Mrs, like sofa-cum bed. You Whatsapp one, you have Whatsapped the other. It is all understood.
He is probably content in his situation, actually he is lucky he gets monogamy in the first place. There are days when he observes bachelors his age, who have sustained lovers for years without marrying them ("I'm not ready"), and he wants to believe they are charlatans who have fooled their girlfriends through the ruse of modernity; he finds comfort in the rebuke of Hank Moody in 'Californication' for such men who keep their women in "their most fertile years" hanging. He also finds comfort in the fact that George Clooney married (twice), even Milind Soman married, men with vast sexual prospects.
She probably has similar cultural notations.
A character in Milan Kundera's 'The Unbearable Lightness of Being' says, "We live everything as it comes, without warning, like an actor going on cold…the first rehearsal of life is life itself". Beautiful but dishonest because the character is acquainted with marriage. A marriage is filled with ever-repeating scenes, a string of rehearsals, without a final show, during which a couple usually gets better and better at marriage. Even their quarrels get better because they are the same. Marriage is an equal battle between two professional actors who have rehearsed their parts well.
This would be a happy marriage.
An unhappy marriage then has to be a form of violence. Even its termination is violent. "You don't know a woman," Norman Mailer said, "until you've met her in court." This is true of men, too, but that would be a maxim with no literary value. The fact is, men and women can be and are equally ferocious at the time of separation. To euthanise such relationships the society has been trying ways. One method, it seems, is to choose the details of death at the very start — prenuptial agreement, which clearly lays out, before the honeymoon, the terms of separation. The idea, which is popular in a few countries, is yet to find legal status in India.
There have been murmurs for years. Some wealthy Indian families have been drawing up such contracts even though they have no sanctity in court. There are couples who have even done it for fun; some kinks are hard to understand. But now The Economic Times reports a serious move from Maneka Gandhi, minister for Women and Child Development. In a few days experts would meet to discuss what they must do. It appears that she is interested in prenuptials as a way of protecting the interests of women. But it is not clear how.
Prenups, as they are called, as though fondly, are usually used to set a limit to what one spouse would pay or give the other at the time of separation, and to establish clarity on child custody. In the United States, couples are known to use the prenup to also establish how many times they would have sex in a week, in what positions, one spouse's right to perform random drug tests on the other, frequent flier-miles as a part of alimony, bonus alimony if a spouse has been unfaithful, and the man's right to watch sports on television. There are clauses that regulate visits of the in-laws, too. But many of these outlandish terms are not enforceable in court. In at least one case, a prenuptial agreement was deemed void because a spouse said she was coerced into signing it.
The Indian prenup, if at all it acquires legal status, would most probably limit itself to serious matters like defining the terms of alimony and child custody. Even so it would diminish the feral nature of a new marriage. There is something wild, in a medieval way, and poignant about two sane people choosing to be stuck with each other for a whole lifetime or as long as possible. This is true even in an arranged marriage of two strangers who have been brought to cohabit by families that have asked the girl's side for dowry, illegally, and asked the boy's side for his financial status, legally.
Much can go wrong in a marriage but in its first glow should the low virtue of practicality encroach into their home even before they have moved in? The place of practicality is outside the home. A marriage that has its terms of separation in a material form, on a printed sheet of paper, in the safe perhaps, is a precarious marriage. A prenup is as morbid as the will of a child, and as absurd.
As with any contract, the first draft of the prenup would favour the person who really wants it, who is often the richer of the two. To make it fair, the other half has to negotiate the terms. In effect, lovers have to reveal their ugly sides before the slow rot of living together naturally achieves that. If they have not haggled, one of them has got a raw deal.
They can, of course, blame their parents for the prenuptial agreement. That is what Indian parents are there for — to be given control so that they can be blamed. Still, it is inescapable that the couple would begin their married lives knowing the other a bit too well long before meeting in court.
(Manu Joseph is a journalist and the author of the novel, The Illicit Happiness of Other People. The tweets by @manujosephsan. The author's views expressed are personal.)
Close Story
Personalise your news feed. Follow trending topics