Stop treating fake spiritual leaders with kid gloves
Sep 02, 2017 06:29 PM IST
Spiritual organisations have become vast money-spinners operating outside the law. Whether it is the Christian evangelical sects, Muslim bodies headed by pirs or pseudo-spiritual organisations like Gurmeet's Singh's, they are all guilty of breaking a plethora of laws
A wondrous fact as far as I am concerned is that at the tender age of 14 Gurmeet Ram Rahim Singh allegedly had his first child — his daughter is today 36 to his 50. But I am being facetious. His age is clearly yet another falsehood propagated by the fake spiritual leader along with his divine qualities.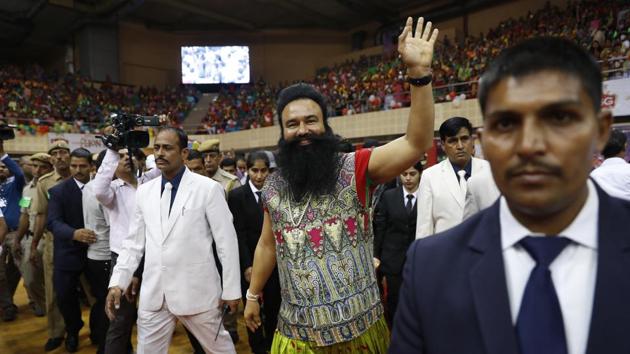 By now we know all about his chicanery, his political support, his sleazy behaviour, his appalling taste. We have arraigned on one side those who say the BJP allowed him to flourish and another which says he flourished under earlier governments. The Khattar government is trying to take credit for bringing him down. But, let us be clear, it did not. A fearless judiciary did.
The point that needs to be stressed if such incidents are to be prevented in future is how such states within states are allowed to flourish. Granted the people are superstitious, venal politicians will try and use them. But these ashrams like that of Ashutosh Maharaj, Asaram Bapu, Osho and of course Gurmeet Ram Rahim Singh to name only a very few did not spring up overnight in isolation.
They have all come up in fairly well-populated areas and over the years the land they have got has increased exponentially. I am not saying all of it was encroached upon, but certainly Singh did not acquire all his property legally. There was much coercion and force for people to sign over the land, public spaces were often taken over for the so-called godman's meetings, state facilities were misused and yet no one seems to have known how this man and others like him could become such potentates, laws unto themselves with followers willing to take on the might of the State.
Why, I would like to know, are things left till it is too late? Till the supporters of these charlatans acquired the power and arms to attack the police and impose their own laws in their deras and ashrams. Are these places not governed by the law of the land? Let us take the Singh case again. This man apparently amassed a vast stock of lethal weaponry right under the noses of the authorities and no one was the wiser? Pull the other one, it's got bells on.
The talk of him preying on women and castrating men was well known, but the authorities are suddenly patting themselves on the back for bringing him to book. They did not, the fearless efforts of the victims and a vigorous judiciary did. If the authorities knew nothing of all this, I can only conclude that they are incompetent at best or complicit at worst.
There is no rule that the authorities cannot enter these premises presided over by self-styled spiritual gurus though in the case of Singh, it is unclear what exactly he portrayed himself as. An attempt to project himself as an incarnation of Guru Gobind Singh came a cropper with a fatwa being issued against him by various Sikh bodies. Most of these places get large quantities of donations in cash. That alone should have been cause for the authorities to keep an eye on them. They may be exempted from tax but surely they are not allowed to hoard cash and gold on the premises or have offshore accounts. When the Sai Baba died or moved onto another life if you will, a huge stash of gold was found in the ashram, truckloads of cash were intercepted moving out of the premises. Ordinary people get put in jail and the key thrown away for much less financial impropriety.
It is clear that in all these ashrams, the authorities deliberately or otherwise looked the other way when these were expanding. This gave these fake godmen the ability to use their numbers and wealth to dictate their own terms. And for a mealy-mouthed political class to shy away from doing its job, but instead to try and cash in on the support these organisations could bring to the table come elections.
None of this is unknown; there have been countless stories of hapless people who were made offers they could not refuse by the henchmen of people like Gurmeet Singh. It would appear that one such victim was the former husband of his adopted daughter Honeypreet Insan. It would be a pity if we were to see a repeat of the kind of violence that the Dera supporters wreaked on public property and caused the death of 38 people from their ranks. There have been many instances where sheer muscle power and weapons have held off people, including the authorities from doing their job — that of ensuring that the law is not being violated in these ashrams.
It is not my contention that people not be allowed to set up ashrams and cater to the emotional and spiritual needs of those so inclined. I am saying that they are not above the law. They have to comply with land regulations, building bylaws, financial regulations and while on the subject, why on earth should they be exempted from tax? They should be given no concession that the average Joe does not get.
I think if the law were to apply strictly to these ashrams and deras, we would see a lot fewer of them springing up. The very attraction so far is that they can function below the radar and invoke their divinity when asked to be accountable.
Today, spiritual organisations have become vast money-spinners operating outside the law. Whether it is the Christian evangelical sects we see in places like Kerala, Muslim bodies headed by pirs or pseudo-spiritual organisations like Gurmeet's Singh's, they are all guilty of breaking a plethora of laws.
Just apply the law of the land and I can assure you there will be a sharp drop in new ashrams and followers. Just withdraw the carte blanche given to these fake spiritual leaders of all hues. It is a lot less expensive and painful than dealing with them after they have mutated into mega outfits like the Dera Sacha Sauda did.
letters@hindustantimes.com