They need not worry, Amma knows best
Our iron ladies of politics seem to inspire a devotion rarely seen when it comes to their male counterparts. But the one who takes the cake, the plate and the trimmings is the Empress of Poes Garden, J Jayalalithaa, whose devotees are so over the top as to almost beggar belief.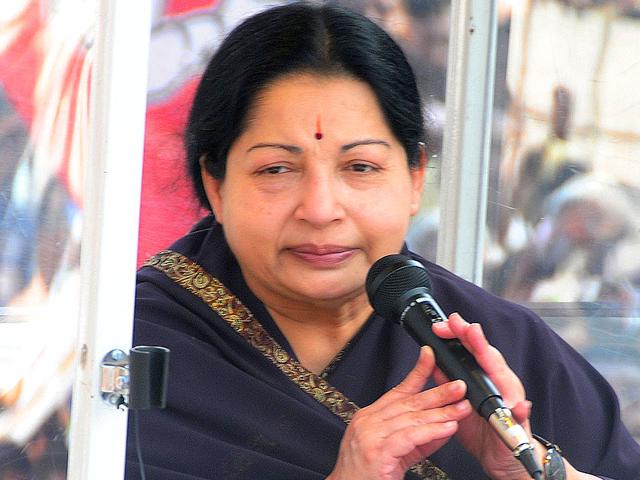 Updated on May 30, 2015 10:48 PM IST
Our iron ladies of politics seem to inspire a devotion rarely seen when it comes to their male counterparts. But the one who takes the cake, the plate and the trimmings is the Empress of Poes Garden, J Jayalalithaa, whose devotees are so over the top as to almost beggar belief. During her recent incarceration, posters sprang up asking whether a mortal (a judge) could punish a god. A poster, the likes of which I have truly never seen, depicted a child crying piteously for its mother. The poster bearing the words Amma va (mother come) was dominated by Jayalalithaa's visage. Another ominously warned — dry leaves beware, you have kept fire in jail.
She is now back for her fifth stint as chief minister but not before her Cabinet variously rolled in the mud, wept bitterly outside the jail premises and her followers formed human chains. Her chosen successor, O Panneerselvam, refused to sit in her chair, and I am reliably informed, never smiled until she was released to show his sorrow. As she glided in to take oath, the faithful stood eyes downcast, hands folded, trembling with emotion. She looked past them imperiously, barely exchanging a word with the man who kept the seat warm for her.
I remember the lyrics of the musical Evita on the late and fabled Eva Peron, the first lady of Argentina, which went — "Who is this Santa Evita/why all this howling hysterical sorrow/what kind of goddess has lived among us/how will we ever get by without her?" Of course, poor Eva had died by then, but here when Jayalalithaa is taken away by the courts on a disproportionate assets case, the sorrow is to be seen to be believed. Which brings me to the issue of Dravidian politics and what it has become today.
I find it hard to believe that the politics we see today in Tamil Nadu could have had the approval of a man all the state's politicos pay lip service to — Periyar EV Ramasamy. He founded the rationalist movement, he promoted self-respect, empowerment and the eradication of caste prejudice. He did not even use his caste name Naicker. I cannot see a shred of self-respect in people mutilating themselves and senior politicians weeping at the sight of their leader facing the due process of law.
I am not singling out Jayalalithaa. The politics of Tamil Nadu is based on a culture of freebies. Nowhere do I see real empowerment for the people. It is true that the lower strata have benefited but it also seems to have robbed them of reason when it comes to their leaders.
The DMK had institutionalised the handing out of caste-based quotas for education and jobs. Its scriptwriter-turned-politician and head of a political dynasty has for much of his career been locked in a political feud, first with MG Ramachandran of the AIADMK and now with Jayalalithaa. Kalaigar, as he is fondly known, has also been instrumental in handing out ceiling fans and televisions. But when it comes to largesse, no one beats Jayalalithaa. Almost every scheme in the state bears her name.
So there are low-cost nutritious Amma meals, there is Amma bottled drinking water, Amma buses, Amma cement, the list goes on. There is the 20 kg per month free rice, bicycles and laptops for poor schoolchildren, mixies, grinders, table fans and one rupee idlis for the poor. Livestock is also on offer for free for the needy. Apart from these goodies are four grams of gold for girls' marriages and the state taking over unwanted girl babies.
Part of the worship of MGR, Karunanidhi and Jayalalithaa originates in their film star credentials. In no other state in India have I seen such an overpowering effect of films on the public. Of course, there are the crazed fans of the Khan superstars in Mumbai. But in Tamil Nadu, films and real life seem to blend seamlessly for many. Once, on my way from Tirunelveli to Madurai, I had the singular misfortune of sitting behind two animated young men in a state transport bus. No sooner did our journey start, the two began an animated discussion on the meaning of the dialogue in a particular film starring uber star Rajnikath. In the film, he apparently refers to a woman who will ruin the land. The two debated long and loud whether this woman referred to Jayalalithaa, in those days not quite the awesome figure that she is today, or Indira Gandhi. This conversation kept up its momentum even as the bus stopped in various places and I hopped on and off to eat vadas and drink coffee.
But the Jayalalithaa phenomenon goes beyond her cine star status. She has created a political culture in which people seem fearful to function without her. She is not a touchy feely politician, she is, in fact, quite distant, the masses thronging to see her from the window of her vehicle in her impressive SUV-led cavalcade. She keeps her personal life completely out of bounds and even her ministers cannot call on her at home. So I can only conclude that the steady drip irrigation of freebies and goodies from both the Dravidian parties has created an electorate that is more de-politicised than in many other states. A dependency syndrome has been created, which seems to be intensifying as the years go by.
Jayalalithaa too has understood this power. She will rarely call on prime ministers. They call on her. Her faithful feel even more proud of their puraitchi thalaivi (revolutionary leader) when they see this spectacle. And Jaya TV is there to ensure that they do not miss any move that their beloved leader makes. She says little but when she does, she can also be famously cutting as many a veteran journalist and political opponent has found out.
The problem that the AIADMK faces is that it has no second rung of leadership, no one would even dare to suggest such a prospect. For after all, is the leader not immortal, a goddess whom no human being can replace? She has been written off before, but her comebacks have always been thunderous. The scores with those who turned their back on her are deftly settled by her followers as has happened this time again. And the political opponents are given short shrift by a vengeful goddess.
For all the veneration surrounding her, she is perhaps the least-known quantity in Indian politics. She is a great lover of books, we gather, but her life is certainly no open book. But for the faithful, just her bountiful presence is enough. It guarantees a quality of life that many in India would envy, it guarantees a feeling of psychological wellbeing that as long as Amma is around, all is well with their world.

Read:Jayalalithaa returns as TN CM; leaders, celebs attend swearing-in
National anthem curtailed at AIADMK supremo Jayalalithaa's swearing-in ceremony
Close Story
Personalise your news feed. Follow trending topics